Herndon — The Town of Herndon Parks and Recreation Department and the Friends of Runnymede Park will team up to host this year's NatureFest Sunday, Oct. 6. The annual event gives local residents a chance to explore the plants and animals that live in the 58-acre park.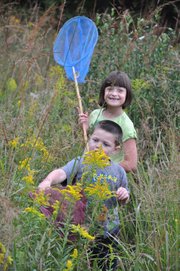 "Before my family and I started going to NatureFest, I thought Runnymede was just a few picnic shelters off of Herndon Parkway," said Evan Smith of Herndon. "Now it's one of my go-to spots when I feel like walking in a forest, it's much closer than Great Falls Park or Lake Fairfax."
This year's event will feature stations throughout the park, showing off its fields, stream and woods.
"This year we're focusing especially on the animals that live in the park," said Carol Hadlock, president of the Friends of Runnymede Park. "There will be live presentations going on throughout the day."
The Wildlife Center of Virginia will be bringing a selection of raptors, or birds of prey. Nature's Web, LLC will have snakes, toads and turtles on display, and there will be a butterfly station with an emphasis on the plight of the monarch.
"Children can learn how to raise caterpillars, and we will even have a group of demonstrators performing a skit showing the phases of a caterpillar's life," Hadlock said. "We'll have a birding station where children can learn how to plant perennials that grow seeds that birds like to eat."
Joyce Birmingham of Reston said that after attending the festival two years ago, her 7-year-old son has taken her on several guided tours of the park.
"He had such a good time trying to catch butterflies and playing with snakes and lizards, that every time we come back, he takes me along the trail, and points out where they live," she said. "He was heartbroken when the event didn't happen last year, and to be honest, I think he's forgotten some of what he's learned, so a refresher will be nice."
Other activities include dissecting owl pellets, a beekeeping demonstration, an examination of stream water through a microscope, and arts and crafts. Food from JJ's Deli will be for sale.
NatureFest will take place from 1 to 5 p.m. on Sunday, Oct. 6 at Runnymede Park, 195 Herndon Parkway. Admission is free.
Parking is available at the park, as well as at the Herndon Police Department, 397 Herndon Parkway. A free shuttle will be provided from the police department to the park.
More information can be found on the Friends of Runnymede Park Facebook page.