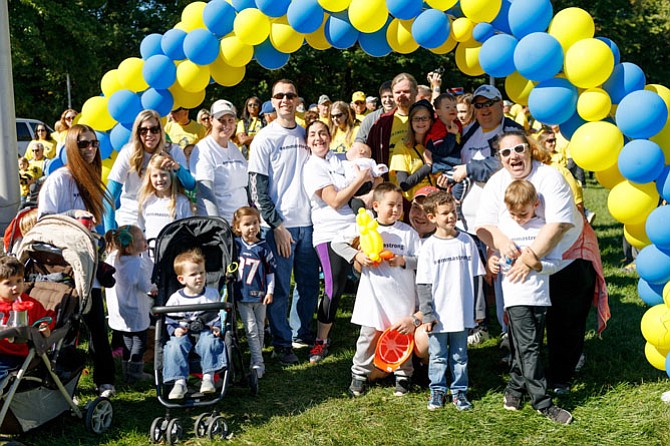 At 10 months old, Emma Laukhuf isn't old enough to walk. But that didn't stop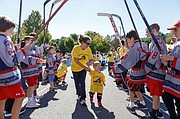 her from joining hundreds of others in the 13th annual Down Syndrome Association of Northern Virginia's Buddy Walk Oct. 1 on the campus of George Mason University.
Emma, born last December with Down syndrome, was carried along the Mason Pond course by her parents Kent and Dana. Surrounding the family were dozens of supporters as part of Team #EmmaStrong, which helped raise funds for programs to assist individuals with Down syndrome in the Northern Virginia area.
"We have been abundantly blessed by the Down Syndrome Northern Virginia team, who have welcomed us with open arms," said Dana Laukhuf. "DSANV was an important part of our life during prenatal diagnosis and continues to be a huge support to us today. We are proud to walk with Emma and our new friends in an effort to give something back."
Team #EmmaStrong raised over $1,900 through the Buddy Walk, which supports the local programs and services that DSANV provides to individuals with Down syndrome and their families living in Northern Virginia. A portion of the funds raised are directed towards the national advocacy initiatives of the National Down Syndrome Society.
Locally, DSANV services includes: helping families adjust to the birth of a child with Down syndrome; provides individuals with Down syndrome and their families with educational, financial, medical, legal and social support and resources; provides social and educational events for individuals with Down syndrome and their families; works to increase community awareness of the capabilities and contributions of individuals with Down syndrome; provides financial support to families in need with camp scholarships, conference scholarships and donations of durable medical equipment; and supports local organizations that provide services to individuals with Down syndrome.
For more information, visit www.dsanv.org.