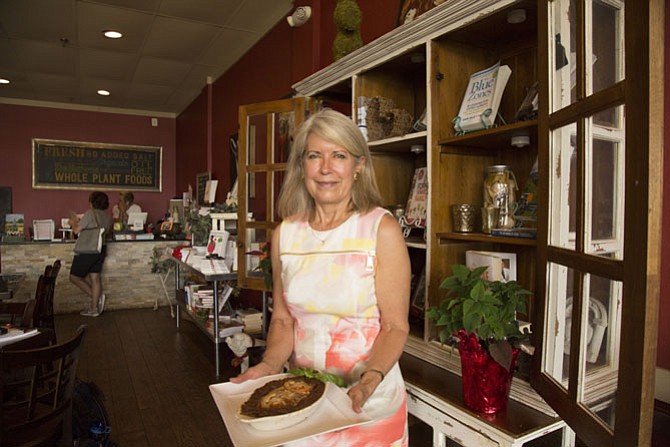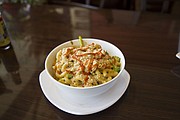 GreenFare Organic Café at Herndon Centre on 408 Elden St. in Herndon is one of the first restaurants in the nation to become certified organic through the U.S. Department of Agriculture National Organic Program.
Many restaurants use the term organic, and have organic items on their menus, but are not certified. In order to make an organic claim with the USDA Organic Seal, restaurants must follow strict production, handling and labeling standards and go through the organic certification process.
The standards address a variety of factors such as soil quality, animal raising practices and pest and weed control. Synthetic fertilizers, sewage sludge, irradiation and genetic engineering may not be used.
Establishments like GreenFare that process or prepare organic food on premises are exempt from needing a certification to label and sell food as organic, according to USDA policy. However, some restaurants are starting to voluntarily become certified organic.
For food to be certified organic, its ingredients must be certified organic, except where specified on a National List of Allowed and Prohibited Substances, according to the USDA. Non-organic ingredients allowed per the list may be used, but no more than 5 percent of the combined total ingredients may contain non-organic content.
CCOF Certification Services, LLC performed the certification of GreenFare for the USDA and verified that the establishment's food and handling of the food — from crop to plate — complied with the USDA organic regulations.
While it took a year and a half with a significant effort to gain the organic certification, Gwyn Whittaker, the company's CEO and owner, and Pericles Silva, the company's operations manager, were determined and believed that it was critical to the GreenFare brand to go the extra mile to gain that status.
"It's a restaurant with a mission and the mission is to demystify whole-plant food," Whittaker said while describing her company.
Silva's experience at Whole Foods, where he started and ran the "Health Starts Here" brand, was essential to managing the certification process to completion, according to Whittaker. The comprehensive process included an application and inspection, finding and managing certified organic vendors, collecting receipts for every food, pesticide and cleaning product, and employee education to manage the process.
Organic certificates had to be acquired from the end user supplier or farmer for every single product that is used in GreenFare.
Ingredients like baking soda and baking powder had to be pure, without additives.
An Organic System Plan was submitted to detail the holistic environment to avoid any cross contamination across the life cycle from receiving, storage, cleaning, managing, producing and serving, according to Whittaker.
The restaurant and meal delivery service not only prepares all organic food; it also only sells food that is 100 percent plant-based and free of added oil, salt and sugar.
Whittaker describes her company as a full-service restaurant serving organic, whole plant food, as well as cooking classes, lectures and book signings, and documentary screenings offered to inspire and educate patrons on the benefits of a plant-based lifestyle.
GreenFare's signature event is the enablement of the Physician's Committee for Responsible Medicine's program, called "21 Day Kickstart Your Health Weight Loss" with classes, as well as 21 days of lunch and dinner entrees that are local, seasonal, freshly-prepared and organic.
"People lose weight, they get off medication; it reduces pain and inflammation," Whittaker said. "It's dramatic."
The goal of the program is to get people eating plant-based nutrition without added salt, oil and sugar.
"I've watched people reverse congestive heart failure," she said. "Type 2 diabetes can be reversed within 30 to 45 days. People can get off pain medication usually within a couple weeks. We'll do the blood testing [for cholesterol levels] and usually we'll see a 20 percent drop in 21 days."
The program is $550 or $650 with blood testing included.
"It's taking out the things that are causing harm to the human body," Whittaker said. "Things that are addictive in foods. So, usually it's fat. When you eat a high-fat diet; fat is either coupled with salt or sugar."