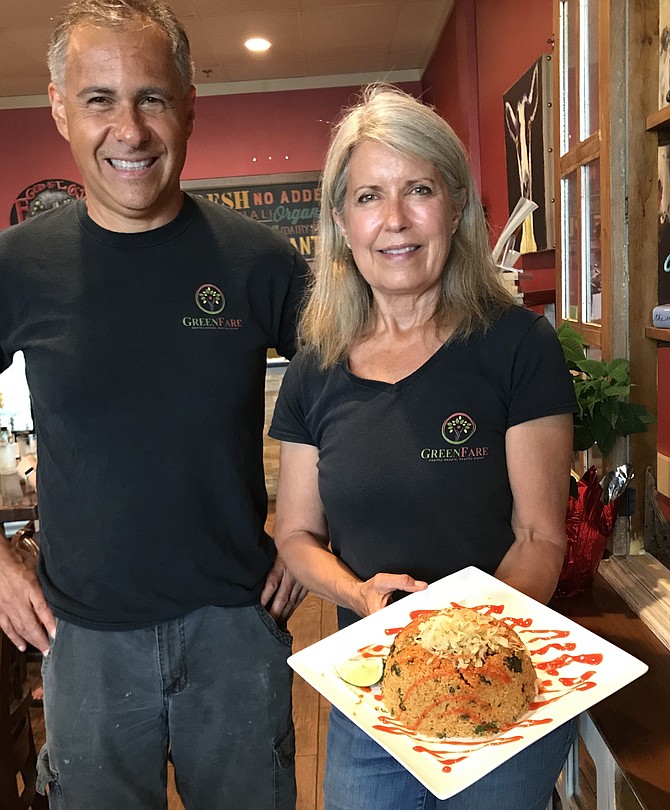 Virginia health-focused restaurant pioneer, GreenFare Organic Cafe, has undergone the Eat REAL Certified Audit and became the first in the state to qualify for Platinum level certification. The experience and dishes at GreenFare Organic are not only special and inventive but are designed and crafted to improve your overall health.
"GreenFare was envisioned to be a community-focused environment where local people could come to dine and learn about the life-enhancing benefits of organic, freshly prepared, minimally processed plant food without added salt, oil, or sugar," explains owner Gwyn Whittaker. This certification incorporates responsible food preparation, sustainable produce sourcing, and a tiered (Silver, Gold, and Platinum) system for scoring restaurants that go beyond their operations.
By becoming Platinum certified, GreenFare Organic Cafe is leading the highest ranking REAL Certified establishments – the goal of which is to represent the top 1 percent of nutrition and sustainability best-practice nationwide. On top of the REAL Certified audit standards, Platinum restaurants must also meet the following prerequisites: A minimum score of 90 percent on the REAL Certified audit; 100 percent of meat and poultry products are sourced from non-CAFO farms; 100 percent of seafood must be "green" according to the Monterey Bay Aquarium Seafood Watch Consumer Guide; At least 50 percent of all oils used in food preparation are non-GMO; 100 percent of entrees contain at least one serving of vegetables that is not juiced, deep-fried, or sweetened; None of the pre-packaged food items sold include ingredients from Eat REAL's list of unacceptable ingredients.
"The passion and care that Gwyn and the staff at GreenFare show through their careful sourcing, preparation and community education truly sets them apart from others in the restaurant industry," says Nutrition, Standards, and Certification Manager Kristin Zelhart. "We are proud to award and recognize them as an important leader in the movement towards a better food system!"
GreenFare Organic Cafe is also only one of six certified organic restaurants in the country. Additionally, the restaurant is powered by 100 percent renewable energy, with menus dictated by seasonal ingredients available locally.

GreenFare Organic Cafe is located at 408 Elden Street, Herndon. It is open Monday-Saturday, 11 a.m. - 9 p.m. and Sunday 4 p.m.- 8 p.m. The restaurant offers dine-in services, catering, ordered 7-day meal plans at $80, books, classes, and lectures; 703-689-0506; https://greenfare.com/