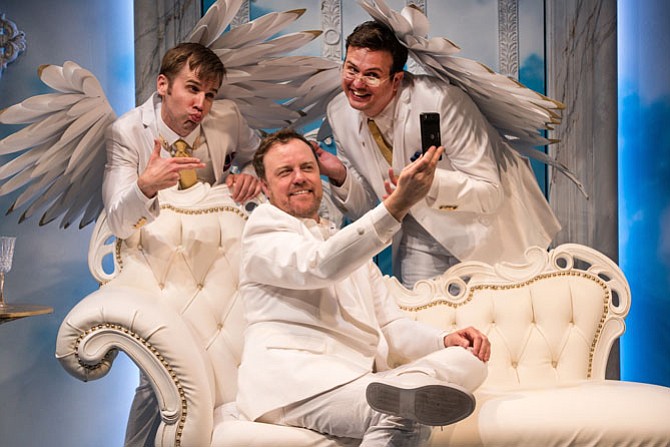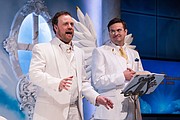 Signature Theatre in Arlington is staging "An Act of God" now through Nov. 26. Written by 13-time Emmy Award winner David Javerbaum (long-time producer of "The Daily Show"), this comedy delivers a new meaning to the phrase "divine intervention."
Inhabiting the body of D.C. actor Tom Story (MetroStage's "Fully Committed"), and flanked by his ever-faithful archangels, the show is about God gifting his mortals with an entirely new set of Ten Commandments in a sinfully funny whirlwind of comedy heaven.
Director Eleanor Holdridge said she's been coming to Signature Theatre since she arrived in town a few years back to teach, and she loved the programming and the sense of excitement the theater seems to generate. "I've found the audiences to be literate, liberal, compassionate and hungry for dialog and laughs," she said.
So, when Signature's Co-Founder and Artistic Director Eric Schaeffer called her to direct this piece, she was thrilled. "It's such a perfect play for today's America," she said. "It is insidiously funny, making us think about who we are and our relationship to religion and to God even as we laugh, examining our biases, our knee-jerk assumptions of how belief and society work together; and the humor of 'The Daily Show' going deeper within the live medium of theater."
"'An Act of God' is a strange hybrid between play and stand up," she added. "At first glance each page of the script reads as almost strictly stand-up: set-up, joke/set-up, joke, and the topical wit and humor seem to skim the surface of what it is to be alive in today's America."
She continued: "And yet, as we work on it there is a deeper arc that puts it more into the form a play. There is a deep-seated reason why the character God has inhabited Tom Story to bring his new commandments. There is a resonance in all the painful questions that the arch-angel Michael keeps asking that are at the core of what it is to be human."
And thus, the biggest challenge, she said was to balance the two forms in a way that holds the audience, "and to make sure we're not sacrificing the deep truths under the surface for the comedy, and conversely, the deep truths for the easy laugh," she said.
It helped immensely that Signature has three fine actors — Tom Story, Evan Casey, Jamie Smithson — who happen to be funny (rather than just comedians) to investigate and uncover the emotional truth and get the laughs, she said.
Regarding Tom Story, she added: "I've known him for about 20 years, (we keep remembering new projects we did together back in the day) and his humor and chops and ideas and dazzling acting ability seemed a perfect match."
She said on Feb. 17 of this year, Javerbaum wrote: "'God's done with Twitter.' And his successful book, his wildly successful Twitter account in the voice of God inspired this play," she said. "Which, in turn, sparked his closing down of God's Twitter Account."
She added: "I think he found that, through the character of God, he could find a unique voice for observations of who and where we are as a nation; what we do in God's name. As I've worked on it, I've found a surprising amount of faith in humanity within the work, even while on surface it seems like a cynical take. Somehow, through God's quixotic wrath and unconditional love, we can find power in our own humanity."
Above all, she wants the audience to have fun with the show. "I want them to laugh not just at America but themselves. I want to celebrate the best in how we practice faith of whatever brand and root out the worst in our easy use of religion to justify bias and personal ends. I want to investigate, through humor, what is wrong with our culture, and strive to make it right," she said.
Signature Theatre's Specialty Nights for "An Act of God" include Discussion Nights on Oct. 25, Nov. 8 and Nov. 14; Pride Nights on Nov. 3 and Nov. 17; and Open Captioning on Nov. 19, at 2 p.m."An Act of God" will be performed through Nov. 26, at Signature Theatre. Tickets are $40 to $104. Show times are Tuesdays through Saturdays at 7:30 p.m. and 8 p.m.; Saturday and Sunday matinees at 2 p.m.; and Sunday at 7 p.m. The venue is located in The Village at Shirlington at 4200 Campbell Avenue, Arlington, VA 22206. Visit www.sigtheatre.org or call 703-820-9771.