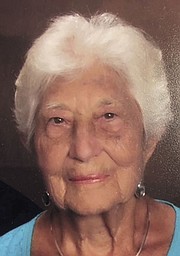 Marjorie Davies Williams, born Nov. 9, 1911, died on Oct. 7, 2017, in Great Falls. She died peacefully at home, surrounded by family. Marjorie grew up in New York City, where she eventually met and married Fred Williams.
After Fred's untimely death in 1945, Marjorie worked fulltime, in multiple jobs, while raising her two daughters: Barbara, who grew up to be a schoolteacher; and Carol, who grew up to be a lawyer.
During her career, Marjorie was recruited to move to D.C. to serve as the administrative assistant first to the Deputy Attorney General of the United States, and later to the Director of the Administrative Office of the U.S. Courts.
Following her retirement in 1980, Marjorie filled her life with her family, world travel, and her church. She was an active member of St. Barnabas in Annandale, where she served a term on the vestry, led the Women of St. Barnabas, and volunteered regularly with numerous charities. She was also tremendously involved in the lives of her four beloved grandchildren.
Marjorie is survived by daughter Barbara Moore (Herman), of Charlotte, N.C.; daughter Carol Bernstein, with whom Marjorie lived in Great Falls; granddaughter Sharon Bernstein (John), of Portland, Ore.; granddaughter Bobbi Bernstein (Donna), of Annandale; granddaughter Christy Walenczyk (Jeff), of Charlotte, N.C.; grandson Russell Moore (Courtney), of Richmond; six great-grandchildren; and countless friends and admirers.
Marjorie will be honored at a memorial service on Friday, Nov. 3, 2017, at 11 a.m. at St. Barnabas Church in Annandale. Marjorie's family would welcome donations to the St. Barnabas Memorial Fund or to the Humane Society.