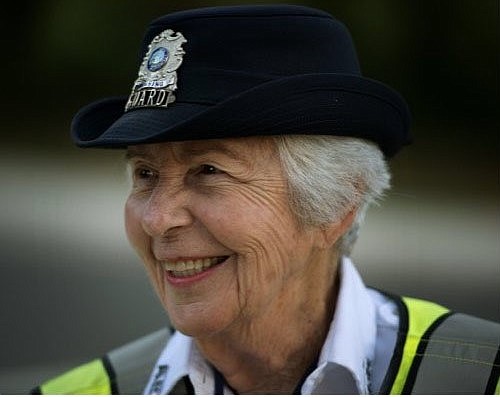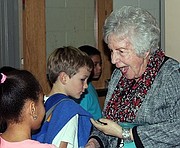 For 50 years, Charlotte Ross was a fixture at the intersection of Polk Avenue and North Pegram Street, shepherding generations of students to safety as a crossing guard at James K. Polk Elementary School. Ross donned her uniform twice a day until her retirement in 2014 when she left the area to be near her daughter. On Jan. 31, the beloved crossing guard died of natural causes at Brunswick Health and Rehabilitation Center in Ashe, N.C. She was 95.
"Mrs. Ross welcomed and protected generations of Polk Owls at the same corner, rain or shine," said the school in a Facebook post reporting her death. "How blessed we are to have been able to have her for 50 years as a treasured legend of our community."
Ross's longevity made her a celebrity of sorts, with national media outlets profiling her over the years, particularly in November of 2014 when she was feted with a surprise retirement celebration by students and school administrators.
"I enjoyed my job, it was my therapy," Ross said at the time. "Regardless of my mood by the time I got home I felt better because I got to see people."
Charlotte Mills Ross was born Sept. 4, 1925, in Huntingdon, Tenn., and grew up in Arkadelphia, Ark. She married Francis D. Ross Jr. in December of 1946 and together were longtime residents of Alexandria.
Ross was a stay-at-home mom in 1964 when she was approached by a school official asking if she was interested in being a crossing guard at the newly opened Polk Elementary School. The former department store fashion model decided to give it a try, helping her own children cross the street when they attended Polk.
The only interruption in Ross's service came in the late 1990s when she took a few months off to recuperate after losing her left hand in a car accident (unrelated to her work) and adjust to using a prosthetic.
Ross is survived by her son, Douglas Ross, daughter, Nancy Edwards, daughter-in-law, Nancy Ross-Zimmerman and grandchildren, Robert, Heather, Jessica, Ashley, Harrison and their spouses plus three great-grandchildren and nephews and nieces. She was predeceased by her husband and middle son, Jeffery Ross.
Since 1966, Ross was a member of Fairlington Presbyterian Church where she also served as a deacon. In lieu of flowers, memorials may be sent to Fairlington Presbyterian Church Deacon Fund, 3846 King St. #1993 Alexandria, VA 22302.
"She took such great care of all of us, keeping us safe," said Shawna Katherine McGowan in a Facebook tribute. "What a gem of a human being."