Zack Harvey, 5, sat behind the wheel of a fire truck at West Springfield Station at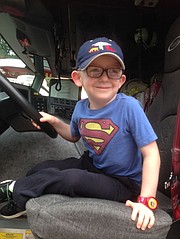 their open house on Saturday, Oct. 14 and pondered his future as a fireman. "I'm still thinking about it," the youngster said, so he grabbed the wheel, pushed a few buttons and climbed down to the waiting arms of his mother.
It went like that all day, as fireman were out front for the Fire Department open house, an event "to meet your firefighters, see the fire trucks, join in the activities and learn about fire safety," according to information released from the fire department.
Fireman Kevin Nishiyama looks at the event as an opportunity "engaging with the community," he said.
Meredith Voss was there for the second year in a row with husband Reid and sons Luke and Chase. "We love it," she said, "they have fire truck toys at home," and are learning about the trucks in preschool.
By the afternoon at West Springfield, there was about 200 visitors to the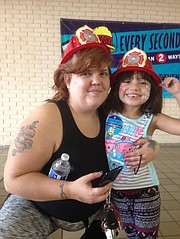 department's annual event.