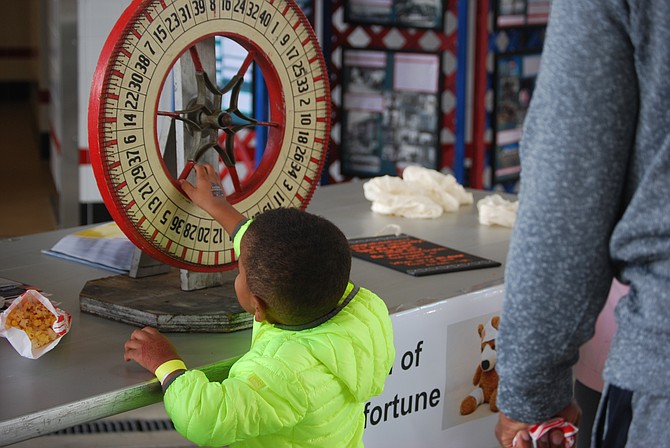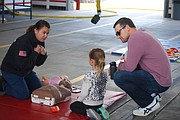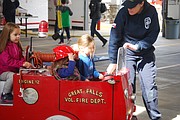 In celebration of Fire Prevention week, the Great Falls Volunteer Fire Department held an open house on Saturday, Oct. 13, to educate families about fire safety. Families brought their children to participate in various activities throughout the day. Community members learned about hazard zones, how to give CPR, and what the inside of an ambulance looks like.
Volunteer EMT Sarah McMichael gave tours of fire trucks, emphasizing how children should build a friendly relationship with their local firefighters, especially in emergency situations.
"We're trying to get the kids more comfortable; they get nervous with what they don't know so we're trying to show them that it's not actually scary. We're here to help and to serve our community, and we don't want people to hesitate to call 911. The kids are the reason we are here," Michael said.
Joan Bliss, a longtime volunteer paramedic, worked with families all day to teach them about important fire safety procedures.
"We're really trying to emphasize the safety aspect of it because we want to make the Great Falls Fire Station about education and a place to teach basic safety procedures, especially to the parents," said Bliss. "It's important for families to understand that this is their community and we are here for them. These are simple things, but it's things that everyone can do and really does make a difference."
Among the educational games, there were fun activities for younger children to enjoy. Heather Zimmerman, mother of two children, ages 5 and 2, took her kids to many of the activities throughout the open house.
"It's really exciting for them because we drive by the fire station every day. My younger one was a little nervous about seeing the firetrucks, but she really liked the hands on nature of it," Zimmerman said. "It's good for them to know that these people are here to help them, It can be a little scary and intimidating, but they loved riding the mini fire truck and extinguishing the pretend fire."
Leslie Smith, the organizer of the open house, enjoyed seeing families and kids come in and out all day, learning about important safety procedures.
"There is nothing to be afraid of; we are here to help them, and they can come visit us anytime. We are here for the community," Smith said.