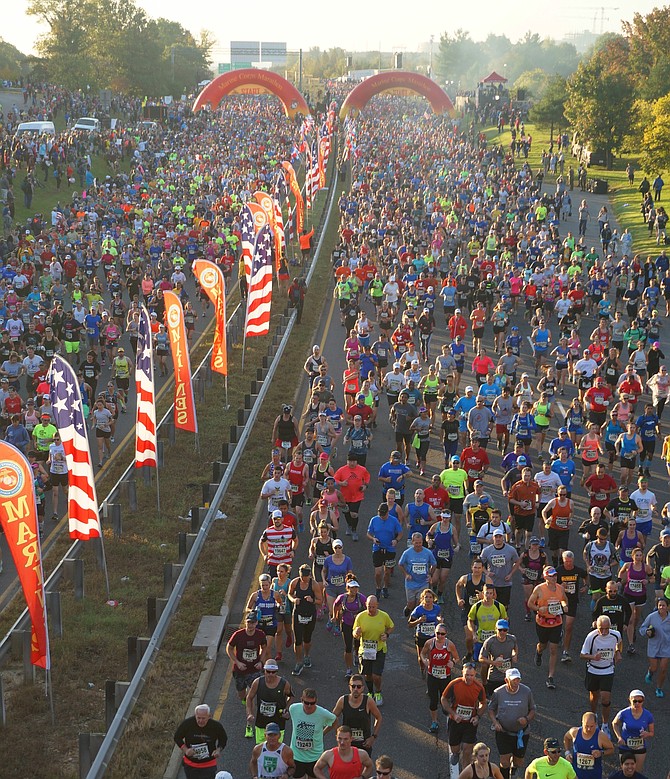 For 24 miles, Kieran O'Connor looked over his shoulder and saw no one. The Arlington resident took an early lead, running alone through miles of empty streets. But in Crystal City, he saw something he didn't expect — Desta Beriso Morkoma was quickly closing the gap.
"I was dehydrated more than I expected to be in the second half of the race," said O'Connor. "But I did my best and Morkoma ran a great race."
In the end, it was the 32-year-old Morkoma, also from Arlington, who became the champion of the 42nd Marine Corps Marathon, finishing with a time of 2 hours, 25 minutes and 13 seconds.
"It's a year I worked hard to win," said Morkoma, who finished second in last year's race.
Wesley Turner of Danville, Va., came in second place with a time of 2:27:34 with O'Connor placing third with 2:28:06.
"I ran alone for most of the race," said Turner. "But you just try to run your own race and I feel good about how I did today."
Sarah Bishop, a mother of four from Fairfax, took first place in the women's division after pleading her case nine days ago asking organizers to allow her to run.
"I came in fourth last year and really felt good and wanted to run," said Bishop, who completed the course in 2:45:06, just 6 seconds shy of qualifying for the Olympic trials. "This is my home turf so the win is very special to me."
Bishop was followed by Meghan Curran of Fort Carson, Colo. (2:50:23) and Suzanne Hutchins of Gastonia, N.C., who finished with a time of 2:53:35.
Arlington runners took the top two spots in the men's division of the MCM 10K race: Denzel Ramirez, 34, finished in 34 minutes and 16 seconds, followed by Craig Morgan, 26, (32:21) and Erik McMillan, 20 of the US Air Force Academy in 32:49.
Bethany Sachtleben, 25, of Alexandria shattered the women's 10K course record with a time of 34:06. She was followed by Julie Tarallo, 28, of Washington (38:00), and Amy Smith, 29, of Seattle (38:54).
"Groundpounder" Al Richmond, 79, of Arlington, completed his 42nd Marine Corps Marathon in 6:48:35.
"I felt strong today," said Richmond, who has completed every Marine Corps Marathon since its inception.
Full results can be found at www.marinemarathon.com.