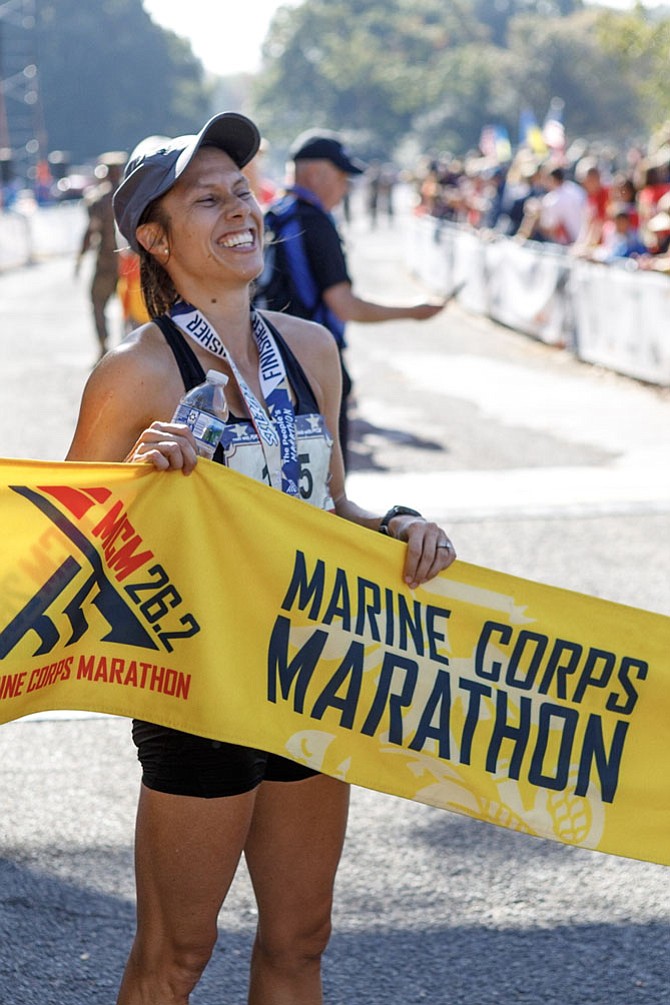 Fairfax — Sarah Bishop needed a babysitter. The Fairfax mother of four had successfully
"Sometimes you have the opportunity to do something and you just need to seize the day."
— Fairfax resident Sarah Bishop, winner of the women's Marine Corps Marathon
pleaded with organizers of the Marine Corps Marathon to grant her a late entry into the race. With her husband out of town and just three days to go, she was getting desperate.
"I had been training and knew I was in shape to do well," said Bishop, who finished fourth in last year's race through the streets of Northern Virginia and Washington, D.C. "This race is my home turf and I really wanted to run."
Bishop, 35, did find a babysitter for her 7-, 5-, and twin 4-year-olds. So in the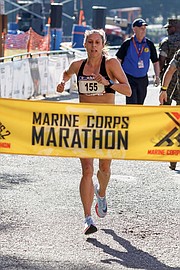 pre-dawn hours of Oct. 22, she lined up with 30,000 other runners for the 42nd annual Marine Corps Marathon, crossing the finish line 2 hours, 45 minutes and 6 seconds later to claim the women's championship trophy.
"By mile 13, I felt strong and knew I could do well at the finish," said Bishop, who missed qualifying for the Olympic trials by 6 seconds. "Sometimes you have the opportunity to do something and you just need to seize the day so that's what I did."
Bishop was followed by Meghan Curran of Fort Carson, Colo. (2:50:23) and Suzanne Hutchins of Gastonia, N.C., who finished third with a time of 2:53:35.
In the men's division, 32-year-old Desta Beriso Morkoma of Arlington overtook Kieran O'Connor in the last mile to win the men's title with a time of 2:25:13. O'Connor, who finished in 2:28:06, had led for 24 of the 26.2-mile course but fell to third place behind Morkoma and Wesley Turner of Danville, Va. (2:27:34).
"It's a year I worked hard to win," said Morkoma, who finished second in last year's race.
Arlington runners took the top two spots in the men's division of the MCM 10K race: Denzel Ramirez, 34, finished in 34 minutes and 16 seconds, followed by Craig Morgan, 26, (32:21) and Erik McMillan, 20 of the US Air Force Academy in 32:49.
Bethany Sachtleben, 25, of Alexandria, shattered the women's 10K course record with a time of 34:06. The old record of 34:43 was set in 2010. She was followed by Julie Tarallo, 28, of Washington, DC (38:00), and Amy Smith, 29, of Seattle (38:54).
"Groundpounder" Al Richmond, 79, of Arlington, completed the marathon in 6:48:35. Richmond is the last remaining runner to have completed every Marine Corps Marathon since its inception in 1976.
For Bishop, who served four years in the Air Force, the victory is especially meaningful.
"I really wanted to win or place last year and didn't," Bishop said. "I come from a military family and to win the Marine Corps Marathon is very special to me."
Complete race results can be found at www.marinemarathon.com.