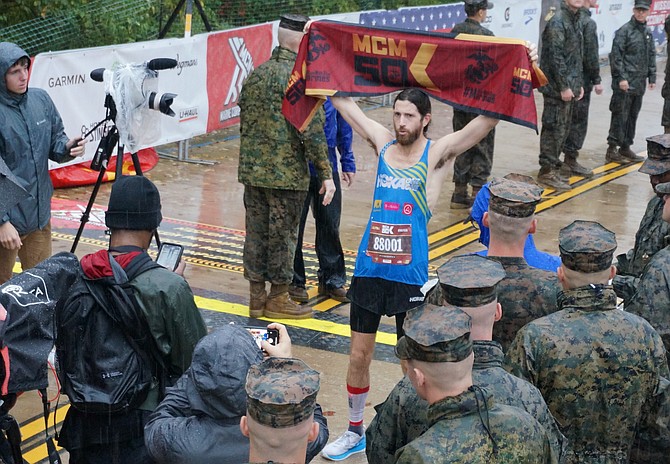 Torrential rains may have slowed him down, but they didn't stop local runner Michael Wardian as he crossed the finish line to win the inaugural Marine Corps Marathon 50K race Oct. 27 in Arlington.
"To win your hometown event in such a great year, I couldn't ask for anything else," said Wardian, 45, who completed the distance (31 miles) with a time of 3:11:52.
The Marine Corps Marathon race was just a tune up for Wardian, who will run as the New York City Marathon virtual ambassador next weekend in Hong Kong.
"It's been a pretty epic year," said Wardian, who ran the entire 89.9 miles of the Washington, D.C. Beltway in 17:54:59 in late June. "I ran across Israel earlier this year and set a fastest known time for that. I did about 1,000 kilometers in 10 days."
Wardian also completed a world record for 10 marathons in 10 days.
"Seven of those were on seven different continents," added Wardian, who ran his first marathon at the Marine Corps Marathon in 1996. "And to win the inaugural 50K today is pretty exciting for me."
More than 1,700 runners joined Wardian along the ultra distance 50K route, including Alexandria's Dustin Whitlow, 33, who finished second with a time of 3:21:36. Patrick Early, 40, of Montclair, Va., placed third in 3:40:50.
In total, 26,502 runners competed in the 44th annual Marine Corps Marathon events, including the traditional 26.2 mile marathon and the MCM 10K.
The top Marine Corps Marathon finisher was Jordan Tropf, 27, from Silver Spring, MD. "I love this race because of the landmarks and the crowd support," Tropf said. "The [wear] blue mile really reminded me why I was running and gave me the push I needed to finish."
Tropf completed the marathon with a time of 2:27:43, shaving 9 minutes and 32 seconds off his 2011 time. Brittany Charboneau, 31, crossed the finish line as the first place Marine Corps Marathon female with a time of 2:44.47.
Other notable 44th MCM finishers include Gen. David H. Berger, 38th Commandant of the Marine Corps who served as the official MCM starter with a time of 5:29:38; Gen. (ret) Joseph F. Dunford, former Chairman of the Joint Chiefs of Staff who finished with a time of 4:45:00; U.S. Sen. Shelley Capito of West Virginia, who ran with a time of 6:45:56; U.S. Rep. Debra Haaland from New Mexico, who served as the official MCM 50K starter, with a time of 6:06:01; Medal of Honor recipient Dakota Meyer, who finished with a time of 5:20:40.
Season 14 American Idol runner up Clark Beckham was the 44th MCM National Anthem singer and finished with a time of 3:45:58. The 44th MCM was Beckham's first ever marathon, who took up running six months ago and has dropped 30 pounds in the process.
Australia's Dean Karnazes, best-selling author, philanthropist and ultra marathoner, finished the 50K in a time of 5:38:14.
Sgt. Maj. Troy E. Black, 19th Sergeant Major of the Marine Corps, served as the official MCM10K starter and finished the race in a time of 01:01:01.
Top event unofficial results:
Marathon Male: Jordan Tropf, 27, Silver Spring, 2:27:43; Adam Stokes, 34, Bristol, England, 2:28:59; Matt O'Neil, 24, Woodbridge, 2:31:30.
Marathon Female: Brittany Charboneau, 31, Golden, Colo., 2:44:47; Margarita Quintero, 29, Zapopan, Jalisco, Mexico, 2:48:22; Selvi Rajagopal, 32, Columbia, Md., 2:50:42.
Wheelchair/Handcycle: Tom Davis, 42, Fremont, Ind., 1:07:10; Krys Zybowski, 43, Avon, Conn.,1:22:27; Omar Duran, 40, Clearwater, Fla., 1:22:34.
50K Male: Michael Wardian, 45, Arlington, 3:11:52; Dustin Whitlow, 33, Alexandria, 3:21:36; 3. Patrick Early, 40, Montclair, 3:40:50.
50K Female: Liz Ozeki, 31, Rockville, 3:42:04; Judy Doldorf, 46, Manassas, 3:52:00; Lisa Reichmann, 45, Gaithersburg, 4:15:11
10K Male: William Gardner, 23, Edinburgh, Scotland, 0:34:08; Kieran White, 41, Aylesbury, England 0:35:06; Shlomo Fishman, 27, Silver Spring, 0:35:16.
10K Female: Hannah Krumreich, 27, Vienna, 0:37:44; 1st Lt. Sarah Bridges, 27, USMC, Quantico, 0:38:42; Maj. Christine Taranto, 34, USMC, Alexandria, 0:38:50.