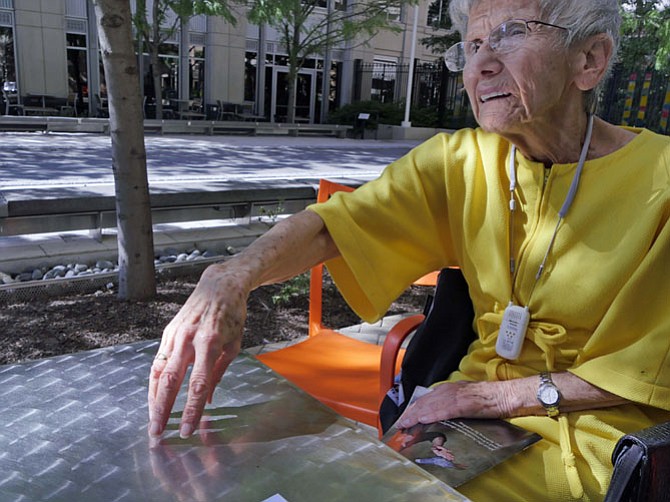 The supporters all agree on one thing. As Imam Ali Siddiqui said, "Nobody asked these kids whether they wanted to come to America. They go to school, they work hard, build a career. It will be a loss to send them back." Figures distributed by The Commonwealth Institute in October 2017 show that if all Virginians who are eligible for Deferred Action for Childhood Arrivals (DACA) became citizens, state and local tax contributions by young Virginians would rise from the current $35 million to $52.9 million a year.
As President Trump's executive order released Sept. 5 threatens 800,000 DACA recipients with deportation, communities of supporters rally to their defense.
Individuals and groups converge from all directions to provide sanctuary, educational assistance, moral support, employment counseling and sometimes "in your face" advocacy for immigrant assistance. Each group has a plan and a niche but they are all working for the same goal — passage of the Dream Act, which will offer the opportunity for a long, but legal, path to citizenship for undocumented immigrants.
Norma Kacen is part of the Northern Virginia Friends of Refugees, an Arlington-based group, which she co-founded with Wendy Chan in the fall of 2016. "I grew up on Federal Hill in Providence, Rhode Island, an ethnic ghetto. It was a closed world with circles of ghettos — Portuguese, Italian, French, German, Polish," she said, drawing circles with her finger on the table.
Kacen has recently been up on Capitol Hill as a volunteer lobbyist with the American Association of University Women visiting key senators to urge passage of the Dream Act. "All of the comments were 'we couldn't afford it,' but," she says, pulling out a talking sheet, "ending DACA and kicking recipients out of the labor force would cost the United States $433.4 billion in GDP and decrease Social Security and Medicare contributions by $24.6 billion over the next decade." This is according to the Center for American Progress, a self-described progressive independent nonpartisan policy institute.
As of November 2016, 645,000 DACA recipients nationwide are employed, and they pay taxes. Kacen said, "My challenge to the senators was yes, we pay for their education like anyone else who pays taxes." But most of the senators were unmoved by the arguments. Kacen says it is also important to acknowledge a breakdown of DACA by Congressional districts because "some our representatives only listen to their own constituents."
Northern Virginia Friends of Refugees was established to combat the anti-Muslim rhetoric and to be a welcoming friend to all refugees. "We didn't want to duplicate the efforts of others so we partner with other organizations," she said.
RECENTLY THE GROUP held three advocacy workshops for people supportive of refugees. About 50 people attended one of the workshops at Fairfax Presbyterian Church, Mt. Olivet Presbyterian Church in Arlington and a Muslim site in Fairfax. These workshops are non-partisan with the purpose to teach the skills necessary for effective advocacy.
"I was really delighted and it was extremely heartening that millennials attended. Every organization is trying to figure out what they can do to attract the disengaged millennials," Kacen said.
The second event, which was held in the spring, brought American professionals together with the often highly skilled immigrants to help the immigrants navigate the workplace. "So we connect the immigrants together with American professionals in their own field to allow the professionals to talk." Many of the refugees were doctors, architects, engineers and entrepreneurs in their countries and now have low-level jobs in America. The purpose of these life skills programs is to increase connections to help the immigrants reach their potential.
The third focus for this year is a large community event planned for the spring. It would be intended to show the resilience of the immigrants by "focusing on the incredible skills in the cultural arts such as music, arts and fashion. It is to show the capacity to overcome, the triumph of the human spirit," she said.
Are they making progress? Kacen paused, "It's hard to say. But ... there are so many people engaged."
Monica Sarmiento is executive director of Virginia Coalition for Immigrant Right (VACIR), a coalition that began in 2013 with eight organizations, now grown to 16. She says their organization is focused on how to have more comprehensive immigrant reform in Virginia. "Many organizations have their niches demographically or ethnically but we tend to be looking at what we're doing statewide and collaboratively. The most important emphasis is to push different community representatives at the table — African, Korean, Muslim."
Sarmiento says since VACIR is a 501(c)(3) non-profit organization they don't directly lobby but have encouraged people to call their members of Congress, and the 16 organizations who are part of the coalition often engage in advocacy. For instance the Commonwealth Institute has prepared a fact sheet outlining how DREAMers grow our economy with 61 percent opening a bank account, 64.5 percent buying their first car, 97 percent becoming employed or enrolled in school. It adds that young people with DACA status contribute nearly $711 million to Virginia's economy annually including nearly $35 million in state and local taxes. The conclusion is that ending DACA could reduce Virginia state and local tax revenue by almost $13 million a year.
Members of VACIR include such groups as Legal Aid Justice Center, SEEC, VOCOLAO, NAKASEC, The Commonwealth Institute and Virginia New Majority. These groups have focused on the constituents of two U.S. representatives in Virginia, Scott Taylor (R-2) and Barbara Comstock (R-10), who they are trying to convince "to do the right thing and support a clean Dream Act."
Sarmiento says the VACIR board had decided for the first time to endorse a clean Dream Act, the first time they had endorsed any legislation. "A clean Dream Act would not have such provisions as mandatory verification (death by 1,000 papers), an increase in ICE agents, increased money for deportation, funding for the border wall, inability to sponsor family members, no pathway to citizenship."
She says there needs to be a much larger conversation to spotlight the injustices happening now with undocumented immigrants who have already lost their DACA status due to President Trump's executive order or who will lose their Temporary Protective Status (TPS) if it is not renewed. These people could be deported any day. She says 300,000 of these are from Latin America; 200,000 of these are Salvadoran. Sarmiento was raised in Northern Virginia but her parents emigrated from El Salvador fleeing war. "They were fortunate my grandmother lived here and got her legal status through the Reagan amnesty act so my father got legal status."
Sumi Yi, Virginia community organizer for National Korean American Service & Education Consortium (NAKASEC), a community-based progressive Asian American and Pacific Islander organization, says their mission is to organize Korean and Asian Americans to achieve social, racial, and economic justice. She points out that out of the current 800,000 DACA 135,000 are Asian-Americans.
The current efforts focus on DACA with phone banks, vigils and visits to Virginia legislators urging them to support of the Dream Act. "Representatives Barbara Comstock and Scott Taylor are on the fence about whether to co-sponsor the legislation," said Yi. NAKASEC is planning a day soon when they will join with other organizations and knock on every door they can find. "Come on; we can do this," she said.
Yi says that Korea is a land of opportunity with a great educational system. "I can go there now and make a lot of money but what keeps us rooted here is liberty and freedom. In Korea," she said, "You have to think a certain way. Culturally and value-wise, I'm American."
Yi takes a moment to reflect on their recent 30-day vigil in front of the White House.
She said they slept on benches, talked to people, got signatures and even did the "DACA dance."
"The Secret Service told us we were the weirdest demonstrators they had ever seen at the White House; we even had a karaoke night. But we raised a lot of money," Yi said. "Some people were supportive but others were being really mean. We had kids with us and I could see they were so hurt. I don't know what's going to happen but we're stronger together. We have to do something."
She declares they're going to get education and driver's licenses for everyone in Virginia. "This moment is bigger than all of us."
SIXTY FOUR PLACES of worship joined together after the election with the announcement of upcoming anti-immigration legislation. Imam Ali Saddiqui, who is part of a transitional leadership team for the group, says Sanctuary DMV (D.C., Maryland, Virginia) includes a number of Protestant churches as well as several synagogues, Catholic churches and his Muslim Institute. One of their actions has been organizing rallies in support of DACA and immigrant rights. "I was just there last week at the Immigration Customs Enforcement (ICE) office in D.C. and at the mayor's office." Since there was just a raid where ICE went after 500 undocumented immigrants and 14 were arrested, the group was asking for their release and for the mayor not to cooperate with ICE officials.
In addition, they have been visiting congressional offices in support of the Dream Act and phoning members of Congress. "Actually this is on a party line. Democrats are very supportive and Republicans not."
He says you hear the argument that immigrants cost the government money and don't pay taxes. "Let me tell you my own story. I came here from Pakistan on March 23, 1969 originally as an asylee. I looked for a job and started working and paying taxes March 24 and have paid ever since."
The Rev. Laura Martin, associate pastor for at Rock Spring UCC in Arlington and also a member of DMV Sanctuary, says there are a number of unresolved issues about the concept of offering sanctuary to an immigrant in a church building. "We are trying to come up with a wider definition of sanctuary such as offering solidarity or support for immigrants when they have an order for deportation. So in the spring another member of the congregation and I picked up a woman living in D.C. with her two children in a small apartment with 13 people. We were there to support her for her deportation hearing. The woman had fled El Salvador, which is the murder capital of the world. We took her to Rosslyn to immigration court. All of us had to go through a metal detector including the children, and they took away the food in her purse."
Martin says 80 different cases were all given the same 11 a.m. time for consideration. "It wasn't a grand court — it was an institutional setting with low ceilings, bright light and so crowded that people, even with babies, couldn't sit down. It was very procedural and you heard the same thing dozens of times. They took cases with attorneys first so we had to wait for a long time."
Martin says somewhere along the way the woman's heavy ankle bracelet started beeping because the battery was low. "There was nowhere to recharge it so it just kept beeping until we got to Subway for lunch in the late afternoon and she could plug it in." When it came her turn the bilingual judge asked if the immigrant needed time to get an attorney and postponed her case until August.
Then they had to go to Vienna for a regular ankle bracelet check-in. "They could track where she was."
Martin said the Sanctuary DMV group is not involved in case management so she doesn't know what happened at the August court date. "The courts can't keep up. They are rescheduling out to the end of 2018."
An excerpt from a poem sent by Martin to the congregation concludes:
"I have known the grandmothers who
Smile even though they have left
Their country of spices and markets,
Have left their open windows with blue curtains
Have left the tramping of war,
Have left their songs and language,
And believed America when we said,
'This is the land of the free.'"
This is the third article in a series focusing on DACA.