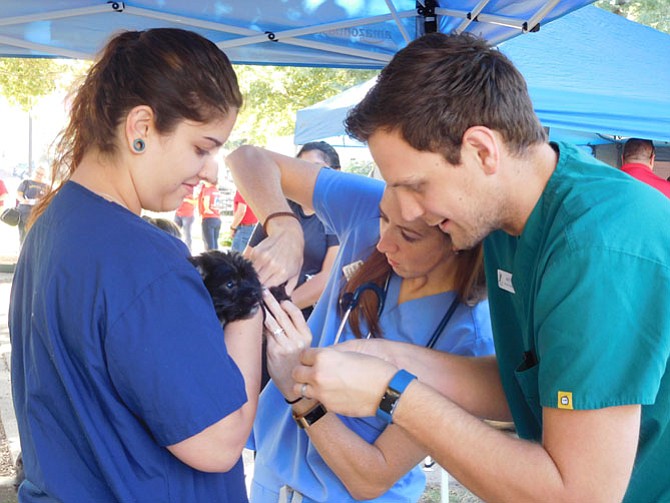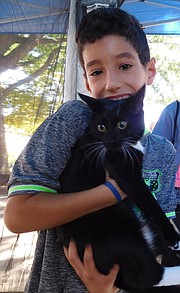 Alexandrian Stacy Palmer had three separate cat carriers slung over her shoulders when she arrived at the courtyard in front of the Ruby Tucker Family Center in Old Town on a recent Saturday morning. The carriers held cats of different stripes, named Molly, Ollie and Bella. It was clear that Palmer adored her pets, but she had not been able to provide them with an important health requirement: vaccinations for rabies.
Palmer had come to the right place. The Animal Welfare League of Alexandria (AWLA), in collaboration with the the Alexandria Redevelopment and Housing Authority and the Virginia Department of Health, was holding a free pet care event. AWLA had identified the neighborhood surrounding the Ruby Tucker Family Center as a location with a need for help with pets, based on calls for assistance and records of animals surrendered to the shelter. Rather than holding a free rabies vaccine clinic at the animal shelter on Eisenhower Avenue, as had been done previously, the AWLA brought the event into the community, setting up a series of colorful tents in front of the Family Center to provide free rabies vaccines, access to veterinary staff, free supplies and behavioral advice. This way, pet owners did not need to go far to obtain these services for their beloved companion animals.
The AWLA believes that animals enrich the lives of Alexandria's citizens in so many ways, and their unconditional love can help during challenges like health crises or financial struggles. Sadly, these crises can often cause people to surrender their pets, unable to find any other solution. With this pet care clinic, the AWLA aimed to help these owners keep their pets during these tough times rather than surrendering them to the shelter.
"We wanted to locate the event in a place to make it as easy to access as possible. We had residents who literally walked outside their door into the courtyard and found help with their pets," said Stella Hanly, AWLA director of Community Programs.
The AWLA mobilized help from throughout the community, including veterinary staff from VCA Old Town Animal Hospital who generously donated two veterinarians and vet techs to make the event possible. Dr. Laura MacLean and Dr. Natalie Henigan worked alongside the VCA technicians to give free rabies vaccines, trim nails and smooth matted fur. AWLA volunteers manned tables loaded with nutritious pet food, toys, collars, leashes and other pet supplies, all free to attendees, who left with bags of goodies for their furry pals.
AWLA behavior and training coordinator Danielle Grand advised citizens on behavioral problems and concerns about their pets. Many asked about house training their dogs, which can be especially challenging with male dogs who have not been neutered, Grand said. She also provided guidance about canines who don't seem to like other dogs and talked to one resident who was concerned her young cat was going "crazy" and had become uncontrollable. Grand quickly identified that the cat had become sexually mature and had gone into heat. She explained the benefits of spaying cats and signed the owner up for an appointment for her cat.
In all, 32 pets received vaccines, and 40 went home with newly clipped nails and supplies. Nearly all of the pet owners expressed interest in having their pets spayed or neutered, the best way to prevent litters of puppies and kittens with no one to care for them. The AWLA will follow up with those pet owners with financial and logistical help.
Old Town resident Charles Gibson brought along his buddy Charlie — a light brown, 9-year-old terrier mix named for his human companion. "My sister had come earlier and called me right away and told me to get Charlie over here," Gibson said as he waited in line to introduce his dog to the veterinarian. "I'm really glad she did — he needs that shot. This is great."