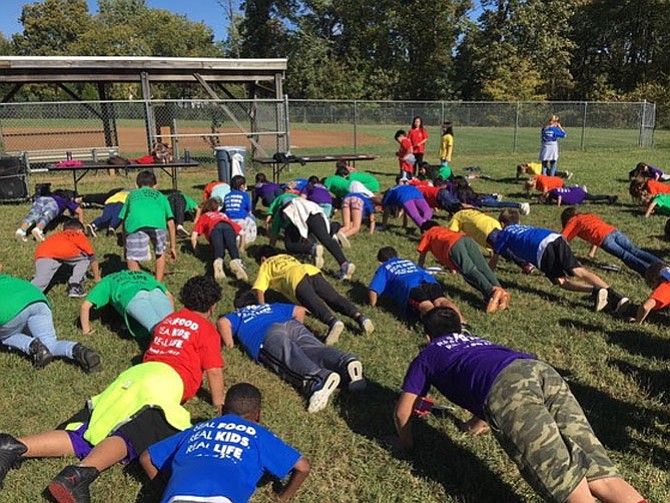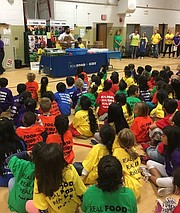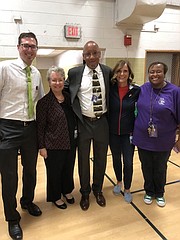 It's not every day that elementary students are encouraged to help mix a giant salad in a kiddie pool, but that's exactly what Herndon Elementary Students were asked to do last week.
The "Food Day" event was put on by the Herndon Parent-Teacher Association, Herndon Elementary School Garden program and Real Food For Kids, a nonprofit parent advocacy group working to improve food served in schools. The organization's Northern Virginia chapter works with the public school systems in Arlington, Fairfax and Loudoun counties, as well as the Alexandria City schools.
"This will be our sixth Food Day; our largest Food Day because Herndon is a very large school," said Mary Porter, director of programs for Real Food for Kids. "Food Day is a national celebration. It's kind of the food version of Earth Day. It is where anyone who wants to can devise an event or celebration that encourages people to make healthy choices in food and in movement, and everything they do regarding what goes into their bodies."
Real Food for Kids, which chooses a different elementary school in the county each year, makes sure to get all students involved in the Food Day fun.
"We work with an assembly-style program for our little kids — kindergarteners through second-graders — and a different kind of food field day for the third- through sixth-graders," Porter said.
Celebrity Chef David Guas of Bayou Bakery and the Travel Channel's "American Grilled" TV show was on hand to lead the "big salad" process, the event's signature activity.
"The 'big salad' is literally a plastic baby pool … and he makes a big salad in the baby pool and the kids help," Porter said. "They use mini garden tools, like a hoe and a rake, to mix it."
Throughout the process, Guas explains how food does not come from grocery stores, but that food comes from the earth; comes from a farm; comes from a garden, according to Porter.
"It's fun and he talks about the things that are going into it and why they're good," she said. "He's putting things in there like red onion, cucumbers and a pretty elevated balsamic vinaigrette that he brings with him and provides the recipe to all of the kids."
The pool-sized salad is then divided into smaller bowls and sent back to each classroom for the kids to taste their work. A physical activity is then built into the program to get children up and moving.
This year, younger students were led in a "Kid Zumba" exercise, while older students were sent through an obstacle course and exercise stations outside.
Inova Health Services was also invited to lead students through one of its Childhood Obesity Prevention Programs: The Healthy Plate Club. Through games and activities via curriculum from the U.S. Department of Agriculture and the Virginia Cooperative Extension, Inova's program teaches students about the "basics of a healthy plate," how to "increase physical activity," and how to "make a healthy snack."
GreenFare Organic Café and Great Harvest Bread, both Herndon-based businesses, also participated in the celebration. GreenFare made organic vegan chili for the students to try and Great Harvest provided samples of its bread and spoke about the health benefits of eating multi-grain bread, according to Porter. Kids also received a swag bag from MOM's Organic Market grocery store with coupons, recipes and healthy snacks.
"It's a very impactful day," Porter said.
Healthier Choices Year-Round
Students voluntarily making healthier food options in the lunch line is behavior the Fairfax County Public Schools is encouraging and supporting year-round.
FCPS has two more years before it hits its self-imposed expiration date to implement fresh "Real Food for Kids" salad bar programs in all 141 of its elementary schools.
Under the program, students may select fruits and vegetables for lunch from the salad bar, and then they may complete their lunch by choosing either the salad bar protein and grains or the hot entrée listed on the menu for that day.
The first salad bar in the county was piloted at Vienna Elementary School in 2016 and have been rolling out steadily ever since. Herndon Elementary School got its new salad bar in February, ahead of many schools that are eagerly waiting in line.
"It's really gone over well with the students," Teresa Fennessy, the school's principal, said. "They have choice and it encourages them to eat more greens. We've had a lot of positive feedback from the kids."
The man bringing these salad bars to the county's youth was brought out of retirement to lead the charge.
"I am known as starting the first of its kind salad bar in the country back in 1997," said Rodney Taylor, director of food and nutrition services for FCPS. "It was called the Farmers' Market Salad Bar."
Taylor retired after more than 20 years of directing nutrition programs for public school districts in his home state of California before coming to work for FCPS in September 2015.
Taylor was committed to adding the salad bars in a way that didn't cause his department to run up debt for the school system.
"I believe that a program can serve healthy food and have a healthy bottom line as well," he said.
Grant funding for the new salad bars was provided by the "Salad Bars to Schools" campaign, according to Taylor. The campaign is supported by the Chef Ann Foundation, the National Fruit and Vegetable Alliance, the United Fresh Start Foundation and Whole Foods Market as part of former First Lady Michelle Obama's "Let's Move!" initiative.
"Though she is no longer in the White House, the organizations that provided salad bars committed to providing us with all 141 salad bars, and that's like a value of about $494,000," Taylor said.
The decision to hire Taylor and let him run his mission was spurred by parents.
Real Food for Kids lobbied FCPS for healthier options before Taylor was hired.
"Things like taking off the 26-ingredient hamburger and 72-ingredient quesadilla were initial missions of ours; to look toward cleaner foods so that we wouldn't have so many preservatives or additives … and move toward more fresh foods," Porter said.
The program to get salad bars in all elementary schools will take two more years, which is about one a week from here on out, Taylor said.
"I came with an expiration date; I'm going home in five years," he said. "I've got a home in California and I'm going back."
Growing Greens in the Garden
Herndon Elementary School's very own garden program was started in 2015 by parents Amanda Geary and Jill Binson, who wanted to get the students outside and get their hands dirty.
"The first year, our goal was just to have every student involved somehow," Geary said. "Our goal was everybody do something; everybody plant a seed."
The second year, Geary and Binson decided to focus the program and started to collaborate with science teachers to integrate garden work into their curriculum.
"Each of the classes played a much larger part in planting the garden or studying parts of the garden or bees — that sort of thing," she said.
This year, Geary and Binson are focusing on involving more teachers outside of STEM-related courses by creating more modules for courses like math and language arts.
"We are creating curriculum for each grade level," Geary said. "So, when the kids move through the grades, hopefully they're excited about moving to the next grade where they'll do some other activity."
For example, third-graders are in charge of writing a blog about the garden and its activities and second-graders are in charge of collecting compost materials from cafeteria waste for the garden.
The garden program working with Real Food for Kids to put on Food Day seemed like a natural step for Geary.
"Their goal is basically the same as our goal: To get every kid to learn about healthy eating and to get outside," she said.
"If it wasn't for [Geary and Binson], this would not happen," Fennessy said. "They're donating their time and not getting paid for this. They're developing curriculum and doing really great things here at Herndon."
Geary and Binson recently met with Taylor and his team at FCPS and were encouraged to start growing food for the salad bar.
Students have harvested sugar snap peas and radishes, but quantities were limited. Even though the garden is small, Taylor and his team encouraged them to try and provide a small harvest of possibly one or two vegetables to provide another learning experience for the students, even if it's just for one week out of the year.
"We always have them tasting, and whatever we harvest in the garden, they eat right there," Geary said.
The school's garden activities can be followed on its blog, www.hesgarden.wordpress.com, and Twitter handle, @HESGardenGrow.