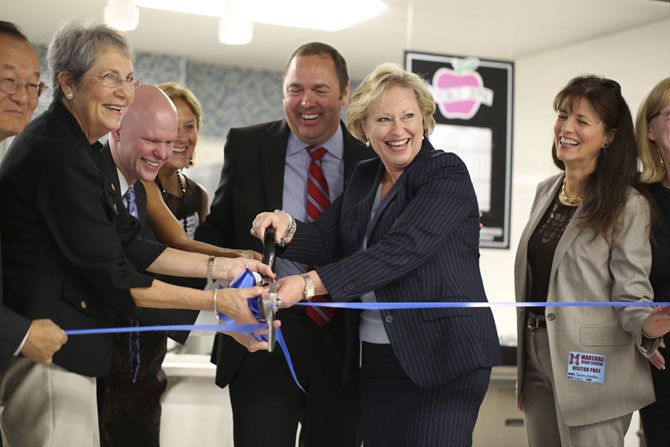 Photo Gallery
Vienna and Marshall HS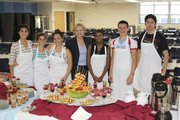 Click Photo for Flash
Tasting food, listening to a student-led, food-themed rap performance and celebrating healthy food was the agenda at school Thursday, Sept. 12 at Marshall High. Principal Jay Pearson and the Real Food For Kids group launched "the Statesmen Station," a pilot lunch program featuring fresh foods, in the form of a soup, salad and sandwich bar. With a ribbon cutting, volunteer-parent organization Food For Kids, which advocates for more fresh food in Fairfax County Public Schools, started the new lunchtime innovation.
A group of Marshall High drama students, the Fresh wRappers, who performed on WUSA's Channel 9 Noon News the next day, commemorated the occasion with a performance of their own lyrics and music.
JoAnne Hammermaster, president of Real Food for Kids, said the cafe bar's successful launch at Marshall was an enormous, collaborative effort. The Food for Kids president said that since the new program is positioned in the 11th largest school district in the country, change is very complicated. The school board, the administrators, Marshall's principal, community leaders, parents and students all worked together to create healthy options for the high schoolers, said Hammermaster.
In school districts across the country, freshly prepared food at school is not a given. David Esquith, director of the U.S. Department of Education's Office of Safe and Healthy Students, spoke on the benefits of feeding teenagers well, and new Fairfax County Public Schools Superintendent Dr. Karen Garza also spoke. 
Principal Pearson and Real Food For Kids worked with the school board and Food and Nutrition Services to create the Statesmen Station menu. Students from Marshall High School's culinary academy served refreshments.
For more information, visit www.realfoodforkids.org.
See MC Horne and the Fresh wRappers (formed for this event) at http://youtu.be/OAxfMX5Br68.