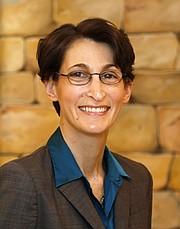 The U.S. Census Bureau confirmed in July what we already know: many Northern Virginia residents are doing well financially. In fact, Loudoun County, the City of Falls Church and Fairfax County are the three wealthiest jurisdictions in the U.S. while Arlington and Prince William counties and the City of Fairfax also rank in the top 20.
The new Census Bureau numbers mask the fact that there are pockets of poverty throughout our region, and many of our neighbors are struggling.
Having worked at Northern Virginia Family Service (NVFS) for 18 years, I have met countless residents who come to us for help finding affordable housing, food, healthcare, medications and job training. Without support, these issues continue to negatively impact the families around us, creating larger barriers to self-sufficiency and the opportunity to thrive in our booming region.
I'm thinking of Zaheer Iqbal, who emigrated to the U.S. from Pakistan with a master's degree in English literature, a Fulbright scholarship and having worked with the U.S. military in Pakistan fighting the Taliban. In spite of his experience and education, the best job he could find was cleaning toilets and working as a cashier at an Annandale gas station. (Did I mention he also speaks seven languages?) Zaheer "graduated" to a job as a hotel night clerk in Fairfax, leaving that job every morning to go to our six-month Training Futures job program. Training Futures saw his potential and helped him make valuable connections within the business community. He recently landed a job with a government contractor. But it took Zaheer four years of sleepless nights and uncertainty about how he would support himself and his twin boys to get to that point.
When I think about the disparity in our region, I think of the 77-year old woman who has been coming to our Hunger Resource Center in Manassas on and off for 20 years as her situation changes. (She asked that I not use her name because she doesn't want her family to know she continues to rely on the food bank.) When she was raising her son as a single mother and working as a waitress, there were times when she had to choose between paying the mortgage and feeding her family. At one point, her house was in foreclosure. Today, she is living off her monthly social security check, which doesn't cover her basic expenses. She is drawn to the fruits and vegetables at the Hunger Resource Center and, on the days they have eggs, she "celebrates" by making an omelet. As a senior living alone, she says she feels invisible to her neighbors. "How hard would it be for someone to check up on me or invite me in for a bowl of soup?" she asks through tears.
And when I think of the challenges facing so many of our neighbors I am thinking of Carla Rocha, who grew up in Reston and graduated from high school in Sterling. All she wanted was a safe, affordable place to live with her son. Instead, she lived in her car, slept on friends' floors and stayed in transitional housing provided by Second Story – one of many outstanding nonprofits in Northern Virginia that provide a safety net for vulnerable children and youth.
Carla moved five times in six years. "I could adapt easily," she told me. "It was harder on my son. That is a lot of change for a kid."

With support from nonprofits like NVFS and Second Story, Carla has a great job and has been able to buy her own place. But for many other residents, living wage jobs and affordable housing remain elusive.
For nearly 100 years, NVFS has been committed to helping vulnerable residents become self-sufficient. If you are proud to call Northern Virginia home, help us in creating a stronger community where all families and individuals can thrive. Maybe you can start by inviting someone in for a bowl of soup.
The writer is president and CEO of Northern Virginia Family Service.