Centreville — Ashley Clarkin, the Event Sales Manager and PGA Golf Professional at Westfields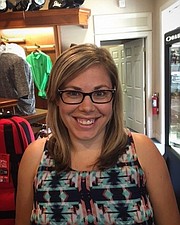 Golf Club (Clifton, VA) has been recognized as the Marriott Golf Associate Spotlight for August, 2017.
A native of Canadian Lakes, Michigan, Clarkin became a member of the PGA of America after graduating from the PGA Golf Management University program at Ferris State University in 2007. Since becoming a PGA Professional, Ashley has spent her entire career with Marriott, having celebrated 10 years with the Company this past May!
Marriott Golf manages 55 courses in 15 countries across 5 continents for Marriott International lodging brands, including The Ritz-Carlton, JW Marriott, Westin, Sheraton, Gaylord Hotels, Le Meridien, Renaissance Hotels, and Marriott Golf Academy.
Prior to assuming her current position as Lead Sales Manager at Westfields Golf Club in 2015, Clarkin served as Associate Golf Professional 2007-2012 & Head PGA Golf Professional 2012-2015, at the facility which is recognized as one of the premier venues just outside our nation's capital.
In her current role, she is responsible for booking and managing corporate and charity golf events. In fact, she developed a new system that is already paying dividends as the club hosted 14 new tournaments in 2016 and has 8 new events on the books through Aug 2017. Developing a new system lead to her being published in PGA Magazine, as Ashley wrote a "Best Practices" article on this topic.
For more information on Westfields Golf Club visit www.westfieldsgolf.com.