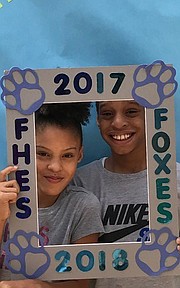 In the week leading up to the first day of school, Fort Hunt Elementary School was packed with families and staff coming together to get the school ready for a new year.
"We strive to create one community at Fort Hunt. It is always wonderful to see parents and school staff coming together to make school a great place for students, but I feel our partnership is deeper than that. Our students, families, and staff are all part of a caring and connected community," said Thomas Fitzpatrick, FHES principal.
At the Open House, students hugged old and new friends, and families posed for pictures before entering the school to meet their teachers. Then on Saturday, more than 50 Fort Hunt family members attended the school's second annual Community Clean-Up day to plant new flowers, and mulch the gardens on school grounds. Monday morning was filled with balloons, signs and smiling Fort Hunt staff, as they welcomed students back for their first day.
Lauren Chuk, Fort Hunt's assistant principal highlights the importance of bringing families together both in and outside of school hours: "Spending time with the students and families at PTA events such as the annual Clean-up day gives everyone a chance to feel connected and committed to building a strong community and school."
The annual PTA Coffee and Kleenex following the first day's drop off was filled with parents appreciating the feeling they had dropping off their students to such a warm and welcoming learning environment.