Photo Gallery
Meet The Grads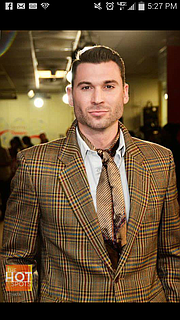 Click Photo for Flash
Many graduates of the Fort Hunt Spanish immersion program have continued learning the language through middle and high school. Some have gone on to study abroad in Spanish language countries, while others found the language to be helpful in their careers.
Emma Cuddy, (at FHES 2004-2011) is a sophomore at Thomas Jefferson High School, a science and technology focus school. Emma says Science and Spanish have been tied together for her since elementary immersion and that fits in with the cross disciplinary attitude at her high school. "In my AP Spanish Language and Culture class now, we focus on thinking and understanding in Spanish instead of translating. Thanks to immersion, I began doing that in middle school." Emma says the Spanish immersion gave her a love of Spanish and practicing it makes her happy and can be a stress-reliever. "I'm not sure if it was Spanish that made me love science or science that made me love Spanish," she said. A side benefit is that she and her brother Thomas (a FHES sixth-grader) can speak Spanish to each other in front of their parents without them understanding their conversation.
Mathew L. Herbert, a Fort Hunt immersion student from 1992-1997, says his time in the program sparked a passion for not only the language, but also the people, music, foods and culture of Spanish- language countries, which has helped shape the way he sees the world. Since his time at Fort Hunt, Mathew has had the opportunity to travel to Mexico, Belize, Panama, Chile, Argentina, Spain, Colombia and Peru. "Knowing Spanish provided me with opportunities in those countries that non-Spanish speakers simply wouldn't have," he said. "The ability to communicate in unique situations abroad has made all the difference with having a truly 'native' experience in each of those beautiful countries."
Sarah K. Meier (at FHES 1998-2004), daughter of former FHES assistant principal and PE teacher Jaime Meier who spent 21 years at Fort Hunt, is currently in graduate school to become a teacher. She uses her Spanish on a regular basis to speak with her Spanish-speaking students. In many instances, she has been asked to serve as a translator. Her favorite aspects of the immersion program were learning science and talking about the different science concepts in Spanish, the Spanish songs, and the geographical and cultural characteristics she would learn of the language. She'd like to encourage students to use their Spanish "whenever and wherever you can" and to be "thankful for this opportunity."
Brian Linnell (at FHES 1998-2004) studied Spanish through high school, ending up in AP Spanish classes, and has mostly used his Spanish skills while traveling. "Despite being forced into the role of tour guide for all my friends, knowing the language was instrumental to navigating ourselves through- out the various cities." "Being able to speak Spanish to the locals was a very exciting experience."
Alexa Williams (at FHES 1998-2004) continued her Spanish education on-and-off through the completion of her undergraduate career. At Carl Sandburg she took (advanced) Spanish both years. She continued throughout high school and took two semesters of Spanish at Wellesley College. "No matter how good you are at learning grammar and conjugating verbs, having half of your classes taught in another language for six years is an unparalleled experience."
India Moorhouse, who attended FHES from 1991-1997, continued with her Spanish and earned a Master's Degree in Latin American and Hemispheric Studies. She's traveled to Mexico, Panama, Costa Rica and Columbia. "I use my Spanish whenever I can to communicate with people who only speak Spanish, and I often think in Spanish to practice," India said. "I also stay in touch with friends who live in Spanish-speaking countries by writing to them in Spanish." India also said she was hired for her current job in large part because she could speak and write in Spanish.
Carly Maher (at FHES 1992-1998) also has found Spanish invaluable at her job at a luxury wine company that is owned by a Chilean-American family. The company represents both Californian and Chilean wines and Carly is able to communicate in Spanish to their many Spanish-speaking employees, which makes her a stand-out employee. "When I traveled to Chile last year to meet our winemaking team with the rest of the new-hires, I was the group translator and was able to create a special bond with our team down there, who was both impressed and appreciative that I spoke fluent Spanish."
Morgan Maniglia, a 2007 program graduate and daughter of Fort Hunt's own kindergarten aide Mrs. Maniglia, said she was able to test out of three levels of Spanish, earning her 12 credits college credits, which freed her to work on dual college minors. Morgan is now a junior at East Carolina University, majoring in Hispanic studies with minors in English and ESOL. She plans to be a certified translator and possibly teach English as a Second Language. Last summer she studied in Granada, Spain. Morgan's older sister Brittany Maniglia Borgiasz (at Fort Hunt 1993-2000) is now a high school English teacher where her Spanish comes in handy when speaking with parents and school employees at her school.
Lauren Gillmore (at FHES 1990-1996) was part of the Fort Hunt immersion program in its first year. She thinks one key to the success of the program is that it exposes children to the language while their brains are malleable and able to absorb it. "It challenged me to learn a second language at a young age when you are able to pick it up very quickly," she said, remembering being able to recite the pledge of allegiance in Spanish.
Emma Lehner, daughter of FHES's Ms. Lehner, who graduated from the program in 2006, said the language exposure proved to be a huge advantage to her in tackling upper-level Spanish course-work. "The immersion program helped me a lot with reading comprehension. Going into higher-level Spanish classes, my vocabulary was very broad from all of the time I spent speaking Spanish at Fort Hunt."
Claire Callahan, a 2011 program graduate, is currently taking Spanish 3 as a freshman at West Potomac High School and says the immersion program has made it easy to be one of the strongest students in the class. In 8th grade she received the Best Spanish Student Award at Carl Sandberg Middle School. Claire's best friend and classmate Julianne Joyce feels her experience also "put her in a good position" for high school Spanish classes and it came in handy during a trip to Panama. Like Claire, she's in Spanish 3 as a freshmen and plans to take AP Spanish classes.
Becky Shirk Karzinel, was part of the first year of the immersion program, entering first grade in 1990. Becky said unique programs such as Spanish immersion are usually specialties parents seek out for their children outside of regular public schooling options. "It wasn't that I was in some unique program — it was just elementary school," she said. Becky said even though she hasn't studied or used Spanish much since high school, she maintains a basic understanding of the language that she knows she'll never lose. "If the point of an immersion program is to have children learn a language as native speakers do, then it was successful," she said.
Sarah Chilton, a 1996 program graduate, traveled to Spain with her sister (also an immersion graduate) and knowing some Spanish allowed them to have a real adventure. "We were not confined to popular tourist attractions and had the confidence to go off the beaten path," Sarah said. Sarah enjoyed all of the activities that involved Latin culture, especially learning dances, arts and about the different foods. She is also grateful for the friends she made, some of whom are her best friends today .
Katie Gates, a 1997 program graduate, said her time at Fort Hunt is the source of fond childhood memories of times spent with lifelong friends and special teachers. "I am very grateful to Fort Hunt and thrilled to know that they continue the Spanish immersion curriculum," Katie said. "Thinking back that I gave presentations or wrote papers completely in a foreign language all before I was a teenager makes me chuckle and think 'I did that?'" Katie said she was especially grateful for her Spanish education during a three-week business trip in Barcelona, where she was able to translate conversations for her boss.
Advice
Former students give tips for Spanish success:
"It's hard to realize it when you are 6-12 years old, but the ability to speak Spanish will stay with you for the rest of your life. In a world that is constantly evolving, being able to speak the second most spoken language in the Unites States is an advantage in life that simply cannot be measured." — Mathew L. Herbert
"Speak Spanish with anyone and everyone you can. It is so easy to lose the language and definitely not worth it. You should feel lucky that you get to learn the language at such a critical developmental time in your life." — Brittany Maniglia Borgiasz
"For those of you that are currently in immersion, stick with it. Knowing another language will benefit you so much in the future and it is fun. Also, you will become great friends with the people you go through immersion with because they will most likely be in your classes until you graduate high school. ¡Buena suerte!" — Morgan Maniglia
"My advice for current students is to pay attention to the grammar. Understanding the first few (verb) tenses taught to you will allow you to further comprehend sentence formation and some of the more difficult tenses down the road. Once you know how to form a sentence, the vocabulary will come naturally." — Brian Linnell
"I encourage current students to continue their Spanish education after leaving Fort Hunt. The immersion program gives you a strong foundation and continuing to learn the language can help you in the future with school, career, traveling and more." — Sarah Chilton
"When I talk about the wonderful opportunity I had in the Spanish immersion program at Fort Hunt, people continue to be shocked to learn that I attended a public elementary school. Realize what an incredible program you are a part of and take advantage of it while you can." -— Alexa Williams
"I would advise students who are currently in the program to make sure to keep up with grammar and conjugations because in middle and high school the majority of the classes focus on grammar and correct tenses." — Emma Lehner
"Take Spanish classes in high school. Do an exchange program. Take any opportunity you can to practice Spanish. If you don't use it, you lose it! Travel the world! I promise you that when you grow up, you will be so thankful you had this opportunity. ¡Buena suerte!" — Carly Maher
"Practice your Spanish whenever and wherever you can. You will thank yourself in the long run! Be thankful that you have this opportunity." — Sarah Meier