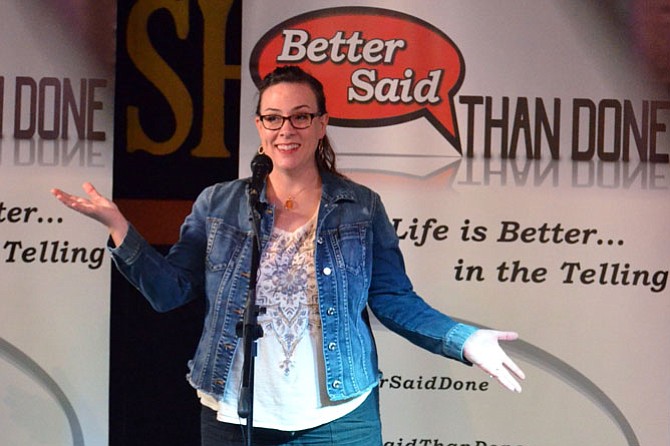 Where and When
"Tech Babies: Baby Making in the Modern Age" performed at Epicure Café, 11104 Lee Highway, Fairfax, at 5 p.m., Sunday, Sept. 10. Doors open at 4:30 p.m. Entry is $10 per person, at the door. Full bar and dinner menus are available and seating is limited to first come, first served. Note: The story is intended for an adult audience.
True, personal storytelling about real life can take audiences to unexpected, intimate places. Jessica Robinson, founder of Fairfax's "Better Said Than Done" will be telling a very personal story of the challenges she and her husband faced when they had to turn to modern medicine and technology that "set them off on a bumpy path" to having a baby, as Robinson said.
Robinson expects her own story to appeal to a wide audience as she aims to show "men and women dealing with their own fertility challenges and fears can hopefully find hope in my story, and support for what is truly an emotional and uncomfortable journey."
"Tech Babies: Baby Making in the Modern Age." is the title Robinson gave to her one-woman performance. During her 70-minute performance and then open discussion, Robinson will take the audience through "twists and turns along the way of the pregnancy. I will take the audience through the experience of being a patient, trying to make a baby, and watching helplessly while doctors uncover one after another potentially devastating issue."
It is "important for me to tell because it was such a lonely, scary experience to live through — in no small part due to the fact that I didn't feel comfortable talking about it," said Robinson. "So many people struggle with getting pregnant or staying pregnant, and yet most people don't feel comfortable talking about it. It should be okay to discuss out in the open. I am hoping that my story generates conversation and helps some people who might have gone through or who are currently going through some of the same challenges.
"Anyone who has suffered from struggling to get pregnant, or with challenges during their pregnancy, will know that they are not alone and that there are other people who have been there and are there now," said Robinson.
"Tech Babies" is also for "those in the medical field who can gain some insight into what the patient feels when scary terms or situations arise," noted Robinson.
"Tech Babies: Baby Making in the Modern Age" will be at Fairfax's independently-owned Epicure Café. "Storytelling is one of the most intrinsically human arts. In hearing other people's stories, we find and better understand pieces of ourselves," said Mojdeh Rezaeipour, creative manager, Fairfax's Epicure Café. "It can be really healing personally and collectively to share that experience."