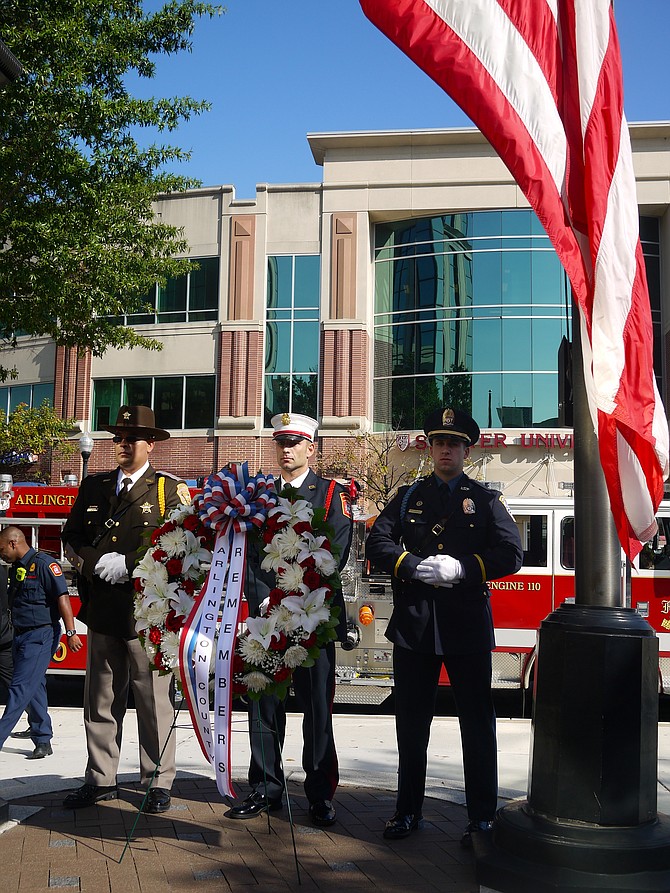 This Monday morning was, as County Board Chair Jay Fisette said, an eerily similar beautiful late summer morning, nearly as brilliant as the day of the 9/11 attacks, and it gave the commemoration of the attacks an unusual poignancy.
More than 100 Arlington residents, and many of the county's emergency personnel and officials, came together at Courthouse Plaza on this Sept. 11 to remember the attack of 16 years ago. It might have been the bright blue skies, or it might have been the reverent, evocative rendition of the national anthem sung by Arlington police officer Jennifer Levy, but more than one attendee swallowed hard as the moment of silence hung in the air, the flags were lowered, and Taps rang out.
Attendees were Arlingtonians, like Cindy Romanyk, an Arlington resident for 25 years; Steve Holl, former Deputy Chief of Police, who spearheaded the Office of Emergency Management after 9/11; and visitors, like Dutch government official Saskia Pardaans, who was in town with her daughters because they had to evacuate Houston just two weeks ago during Hurricane Harvey. Her daughter, Dominique, said she attends West Briar Middle School in Houston which had just started again this Monday, after a two-week delay, and her mother chimed in that Dominique was studying U.S. history this year, and "what better way to study it than to be at this ceremony." Pardaans remembers 9/11 well because she had visited New York City just a couple of weeks before the attack.
Theo Stamos, Commonwealth's Attorney, said she remembered the morning all too well. She was in the courtroom with police officers: all of a sudden, everyone's radio started crackling, and all the officers ran out of the room to respond to an incident. They saw the black smoke coming from the Pentagon. She remembers the concern that other attacks were on the way, and how a Ryder truck that was parked outside the courthouse suddenly looked like a potential threat to the safety of Arlington.
County and state officials stood behind the honor guard: Fire Chief James Bonzano, Sheriff Beth Arthur, Police Chief Jay Farr, County Manager Mark Schwartz, County Board Chair Jay Fisette, Deputy Chair Katie Cristol, and members Christopher Dorsey, John Vihstadt, and Libby Garvey. General Assembly Del. Rip Sullivan (D-48) , Alfonso Lopez (D-49), state Sen. Barbara Favola (D-31) , U.S. Rep. Don Beyer, U.S. Sen. Tim Kaine, and Commonwealth's Attorney Theo Stamos.
In remarks to the crowd, Fisette reminded Arlingtonians that the Arlington Fire Department was the first to answer the call for help at the Pentagon, and that the Arlington response to 9/11 was singled out in the 9/11 Commission report as an example of what went right that day. Fisette recalled being moved by the American reaction to being attacked: the flags came out, everywhere. Huge flags were unfurled and hung from office buildings, from apartment buildings, and were placed on lawns all over the county.
"We must not forget the lessons we learned from 9/11," Fisette told the crowd. "We learned lessons about communication and preparedness, and about our own personal resolve in the face of adversity."
Fisette said one of the most important lessons, "one which we can use today as we help those who suffered hurricane damage, is to remember to reach out and say 'I've got you' to someone else who is suffering."