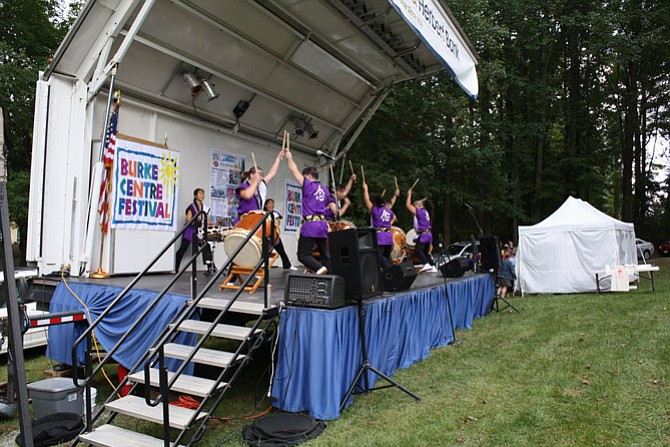 Burke — With the hurricanes in the south wreaking havoc, the Burke Centre Festival
went on without a hitch on Sept. 9-10. Under sunny, blue skies, the festival had all the ingredients that's made it such a community celebration through the years, like a climbing tower, giant slide, burgers on the grill and a 1965 Ford Mustang up for raffle by the Rotary Club.
This year was the 40th anniversary of the festival, and Jeannie Winslow at the Burke Conservancy was manning the operations tent, a duty she's taken on through the years. "We've added more in artists, and crafters, we needed to make adjustments," she said.
Lots of students were on hand to put in community hours for their school requirements. Leslie Vilca, a senior at Robinson Secondary School, and Sky Waters, a Robinson eighth grader, had the official title of "water runners." Vilca goes to school, works at Petland and a daycare center as well.
"I've seen a bunch of people from school," she said.
The festival opened with remarks from Patrick Gloyd, of the Burke Conservancy, the color guard from the Burke VFW Post 5412, and the flag raising from the Boy Scouts of Troop 1345. Elected officials in attendance were U.S. Rep. Gerry Connolly (D-11), Del. Eileen Filler-Corn (D-41), Chairman Sharon Bulova and Supervisor John Cook (R-Braddock District) . The Legacy Band opened up the ceremony with Pamela Wilson singing the National Anthem.
Other bands playing through the weekend included the Delaney Hall Band, the QOK Band and the Stormin' Norman Band.
Norman Voss of Stormin' Norman said "the crowd went crazy for us."
After two days of 70-degree weather under blue skies, Winslow was relieved everything went so well. "Many times during the weekend people expressed this was one of our best festivals in many years, and how suiting that was for Burke Centre's 40th Anniversary," Winslow wrote in an email.
"Many times during the weekend people expressed this was one of our best festivals in many years, and how suiting that was for Burke Centre's 40th Anniversary."— Jeannie Winslow