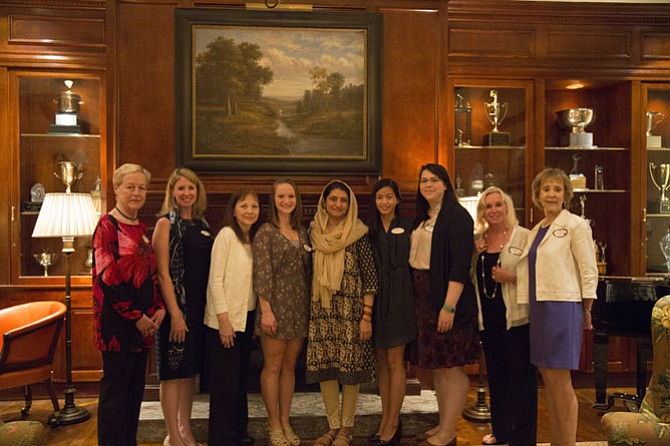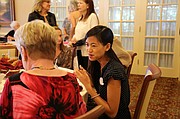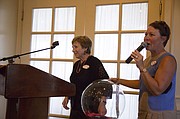 The Great Falls Friends and Neighbors Club awarded six scholarships to local women attending George Mason University and Northern Virginia Community College during its 2017-18 Kickoff Luncheon on Friday, Sept. 15.
In 2016, the GFFN Scholarship Fund, Inc. established two $25,000 endowments, one at GMU and one at NVCC. For the 2017-18 academic year, a total of $8,500 was awarded to the six students: $1,000 for one Bette Carter Dance Award recipient from GMU; $1,500 each for three general scholarship recipients from GMU; and $1,500 each for two general scholarship for NVCC students.
The women who make up the club have a long history of helping other women in their community pay for college coursework.
"The GFFN Scholarship Fund was established as a 501c3 in 1982 as a philanthropic mission of the Great Falls Women's Club," Candace Bovee, GFFN Scholarship Fund, Inc. board member, said during the luncheon. "When the Women's Club merged with the Newcomers of Great Falls, the scholarship fund was incorporated into the new organization."
THE BOARD MEMBERS of the scholarship fund are passionate about empowering women through education and develop their own fundraising activities throughout the community to raise the funds.
"Several of our past scholarship recipients have had full-time or part-time jobs, and many of them have had children or family obligations and they would not have been able to pursue their education goals without the GFFN scholarship fund assistance," Bovee said. "We are very proud to be able to help them accomplish this."
A spring fashion show at Bloomingdale's in McLean two years ago raised more than $27,000 for the scholarship endowments, according to Bovee. More recently, Mookie's BBQ in Great Falls hosted a fundraiser with the scholarship fund on the evening of May 4, where 10 percent of all purchases went to fund the scholarships.
"It raised enough to grant one more scholarship," Bovee said.

Christine Lavin, GFFN Scholarship Fund, Inc. board member, introduced the three recipients who were able to attend the luncheon.
"They are each truly remarkable," Lavin said about all of the recipients. "Their stories and their journeys have really made an impact on me and I know they will make an impact on their communities once they graduate."
GMU Student Paige Honbarrier, the 2017 Bette Carter Dance Award recipient, is using the scholarship to help pay for prerequisite coursework needed for her Bachelor of Fine Arts degree. After college, she hopes to dance professionally and teach school children in a public school setting.
While introducing GMU Student Asma Sultana, a 2017 recipient of a general scholarship, the room roared in applause and audible gasps when they found out she was pursuing her degree while also raising three children.
"Miss Sultana is maintaining a 4.0 GPA while also raising three young boys," Lavin said.
Sultana is an instructional assistant with the Head Start program with Fairfax County Public Schools and has a goal of becoming an early childhood education teacher.
NVCC Student Lun Lungsway, a 2017 general scholarship recipient, is a refugee from Myanmar, whose father and brother were killed during a civil war between armed ethnic groups.
"She tells me that during these early years of her life, she saw many people suffering, some from disabilities," Lavin said. "And that is where she was first inspired to help others, a dream that has carried her through today where she is working toward her goal of studying occupational therapy."
ESTABLISHED IN 1983 out of a desire to provide financial assistance for women pursuing degrees in higher education, the GFFN Scholarship Fund, Inc. is a nonprofit organization run by a seven-member board of directors. Scholarships are awarded to women over the age of 25 who are residents of northern Virginia and attend George Mason University or Northern Virginia Community College. A dance student at GMU is awarded each year in the name of former GFFN Club member Bette Carter.

"To all of our students, we are so happy to be a part of your journeys and wish you the best of luck and success in the academic year ahead," Lavin said. "You are truly an inspiration."