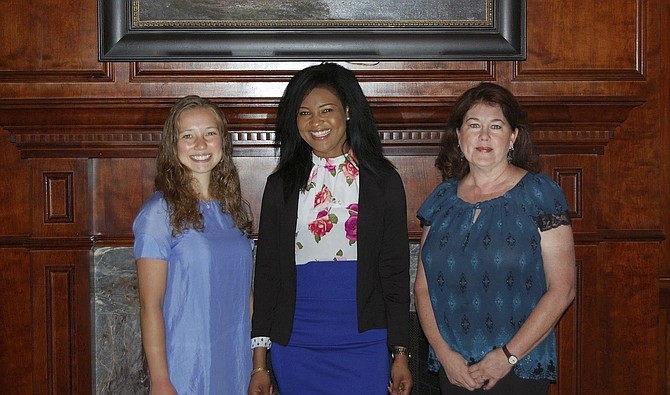 When a group of like-minded women gets together, anything is possible. This was clear when the Great Falls Friends & Neighbors (GFFN) philanthropic group gathered at River Bend Golf & Country Club on Sept. 14 for its annual kick-off luncheon.

As more than 75 new and current members mingled over appetizers, the topic of giving was ever-present in their conversations. With two special prizes up for grabs during the event, the ladies purchased raffle tickets and raised more than $800 to donate to The Women's Center of Vienna. A special thanks goes out to the prize donors: Toka Salon and Paul's Wine and Spirits. Another table at the luncheon displayed the annual White House Christmas ornaments, whose sales will again be donated to Artemis House, a local shelter for victims of domestic violence.
Finally, a special presentation was given to highlight the various scholarships awarded by GFFN's Scholarship Fund board. The board reviews entry essays from women over the age of 25 who are residents of Northern Virginia and attend George Mason University or Northern Virginia Community College. A dance scholarship is also given each year to a George Mason University student in honor of former club member, Betty Carter.
Christie Lavin, the board's Director of scholarships, introduced the recipients and spoke about the purpose and goals of the scholarship fund. This year's eight recipients included three women at the luncheon: Christina Gleason, Bernice Anyang, and Regina O'Brien. Other recipients not in attendance were Madison Long, Farah Gutierrez, Amanda Gatling, Fatima Wehelie, and Gwen Palmer. Each student was chosen for their financial need and their academic standings of a 3.0 GPA or higher. And, perhaps more importantly, for their impressive background stories and their goals of obtaining degrees in a wide range of disciplines, from cyber security to forensic psychology to accounting to teaching ballet.
Lavin shared the goal of the scholarship board this year. "We [want] to make a real, tangible difference in the lives of other women. Our goal this year is to increase everyone's awareness of our fundraising efforts so we can raise more money [to provide] scholarships to more women. We had [to turn away] so many applicants this year; at NOVA alone, 55 women applied and we could only offer two." More information can be found and tax-deductible donations made at https://www.gffnsf.org/.
To learn more about GFFN and its other philanthropic and community-focused programs, please go to http://www.gffnva.org/.