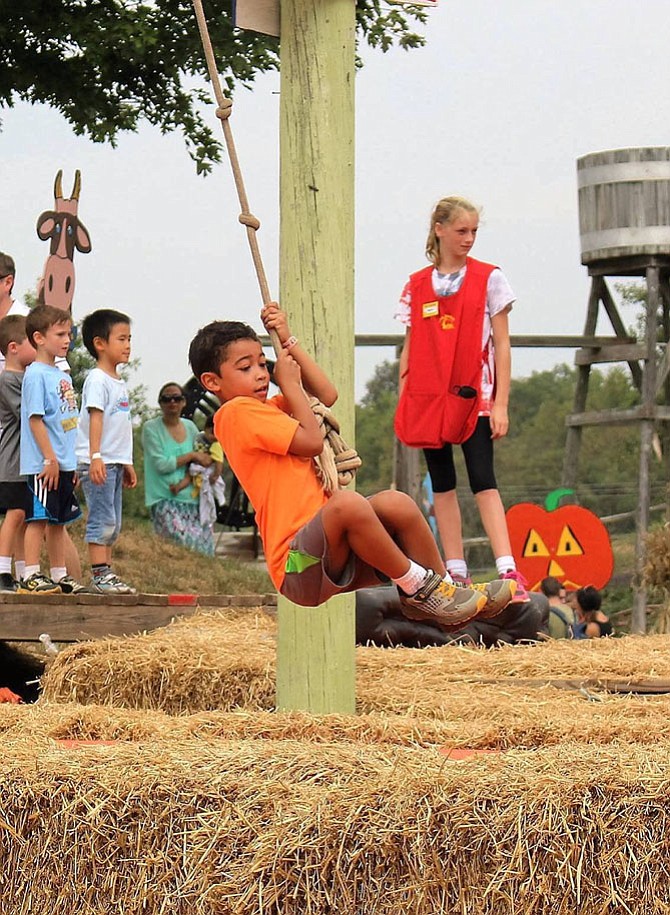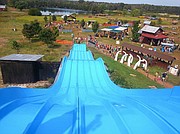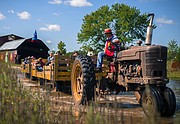 The leaves are turning colors and autumn is here — and that means it's time for the 45th annual Fall Festival at Cox Farms in Centreville. Whether people go there for the hayrides, rope swings, giant slides, baby animals, pumpkin catapult, apple-cider doughnuts or space aliens in the cornfield, the festival offers something for everyone.
It's on 90 acres at 15621 Braddock Road, just off Pleasant Valley Road. The festival runs daily from Sept. 22-Oct. 31, from 10 a.m.-6 p.m., and Nov. 3-7, from 10 a.m.-5 p.m.
The scarier portion, Field of Fear, aimed at older teens and adults, comes alive Friday and Saturday nights, Sept. 22-Nov. 4, plus a bonus night on Sunday, Oct. 8, from 7:30-11 p.m. The pumpkin-smashing event, Pumpkin Madness, is slated for Saturday-Sunday, Nov. 4-5, from 10 a.m.-5 p.m.
The Fall Festival now offers four tiers of admission: Discount, Value, Regular and Peak. And this weekend, Sept. 23-24, public servants may receive a $5 discount on up to four Fall Festival tickets. Government employees, educators, first responders, law enforcement, nurses and military personnel just have to present a valid badge or identification at the ticket booth. For more ticket information, see www.coxfarms.com.
The fall festival draws thousands of people each week from throughout the Washington Metropolitan area. For many families, it's a tradition passed down from one generation to another. All in all, said Lucas Cox-Galhotra, "co-farmer-in-chief" with his sibling, Aaron Cox-Leow, "It's a great way to spend a fall day with the family."
The many outdoor activities include live bands, a goat village, an enchanted barn, tunneling through a mountain of hay and a Cornundrum Cornfield Adventure — complete with funhouse mirrors and a pirate ship. And as always, each new festival season brings new additions to the fun.
This year marks the debut of Foamhenge — a full-sized replica of Stonehenge made entirely of Styrofoam. Originally created in 2004 by artist Mark Cline of Enchanted Castle Studio, it stood in Natural Bridge, Va., until 2016. Since then, it's undergone extensive renovations and is now ready for visitors at Cox Farms.
Besides that, tractor buffs will enjoy strolling through the new, "please touch" Tractor Museum featuring 16 tractors from 11 of the largest manufacturers over the past century. And along the Imaginature Trail, people will be able to walk through a forest filled with fairytale characters and fun surprises, such as the three bears' house, Rapunzel's tower and the Hobbit house.
HAYRIDE, MUSIC, MINING
The ever-popular hayride lasts 20 minutes and travels by clever vignettes, including cartoon characters in the cornfield, comical space aliens, a witches' house, superheroes, trolls, cowboys on horseback, a wild-west town and the Black Cauldron Café — the witches' coffee bar.
"And we added dinosaurs, this year," said Cox-Galhotra. "They're pretty fun." At the end, the hayride travels through a large, enchanted barn filled with music, flashing lights and scenes of wizards, witches and magical plants and creatures.
The free, weekend events also include entertainment on the music stage. Live bands perform, and Farmer Jack sings and tells stories while milking his cow, Bingo. Several bands — including The Page County Ramblers, Jimmy Cole All Stars, Tom Blood & Late as Usual, and the Patty Reese Band — will perform bluegrass, country and rock music.
Visitors may also enjoy the mining sluice. It's a tower that dumps water into a curvy trench where people can pan for fossils, gemstones and arrowheads.

FARM ANIMALS, KIDDIE ZONE
Bunnyville, inside the slide barn, hops into action once more. A slide comes out of the top of the barn, and the bottom part houses Bunnyville. There's a model of Washington, D.C., with the monuments and White House, and about a dozen bunnies jump around in them.
But they're not the only furry friends — Cox Farms has animals galore. Children may feed baby goats in their own Billy Goat Village. Sheep are on the mountain leading up to the dinosaur slide, with some alpacas close by and a couple peacocks roaming free. There are also baby chicks, ducks, hens and chickens, a llama named Chewie, turkeys, calves and milking cows, pigs and piglets — including one set born Sept. 13.
Geared for 2-6-year-olds, the farm-chores area features old-fashioned water pumps and troughs, a corn conveyor belt, chicken coop and a little garden where children may pump water into buckets and water the crops. They may also lift up straw bales by a rope and pulley.

The Kiddie Zone gives children 5 and under a calmer place to play. The fun includes smaller themed slides, rope swings, hay bales and a wooden train. Little ones may also play on the Three Little Pigs' house and slide and climb on a wooden Jeep in the front yard.
SLIDES, FIRE ENGINE, FOOD
Festival visitors always enjoy the six giant slides. "Each slide is themed differently, so you'll fly out of castles, barns and volcanos, exploring everything from dinosaur digs to mining towns to giant beanstalks," said Cox-Galhotra.
The fun also includes straw tunnels, plus the Cornundrum Cornfield Adventure. The latter features funhouse mirrors, a hall of doors, giant vortex and a pirate ship. Also on hand is the Great Pyramid with hieroglyphics and some surprises inside.
Another hit with children is a red, 1961 fire engine, near the volcano slide. It has two slides coming out of the back so children may climb up, go across and slide down.
Food is available for purchase throughout the farm. The selection includes hot dogs, hamburgers, nachos, Dominion root beer and root-beer floats. Home-smoked, pulled-pork, barbecue sandwiches are also on the menu, as are chocolate-chip and sugar cookies.
Kettle corn is offered, too, plus homemade caramel apples and apple-cider doughnuts. Cox Farms also has a milk-and-cookies stand and, this year, it also features nitro, cold-brew coffee.
Fresh cider and apples are free. And if desired, visitors may bring their own lunches (no alcohol) for picnics on the grounds. They may also buy a wide variety of treats in the farm's market. The goodies include freshly baked apple pies, local apples, kettle corn, apple cider, dessert breads, jams, local honey, Indian corn, squash, gourds and fall decorations. Visitors even get to choose a free, patch pumpkin to take home.
FIELDS OF FEAR
Once night falls, scary creatures arise and roam free, so the 20-acre Fields of Fear isn't recommended for children under 12; and anyone under 14 must be accompanied by an adult, 18 or older.
Those brave enough to enter the Fields of Fear are led to the Cornightmare to experience cornfield terrors in the dark. There, they walk through the Hall of Whispers, Bug Room and Claustrophobia, secluded in tall corn with creatures that aren't human. There are also crazed clowns, illusions and a secret finale.
The Dark Side Hayride is all new for 2017 and now boasts The Lost Circus. Abandoned in the early 1900s, it comes to life when the living approach. It includes Sideshow Alley and magicians. Said Cox-Galhotra: "We built a brand-new barn for it, and it ends with the scary Clown Chaos."
In the Fields of Fear, the normally friendly Imaginature Trail takes a dark turn, too, transforming into The Forest: Back 40 – a half-mile of fright. But not everything is scary at night. Foamhenge is also part of the after-dark fun, as are a big, six-lane slide and karaoke. People can hang out at giant bonfires, listen to music and roast marshmallows while watching live entertainment.
For Cox Farms, said Cox-Galhotra, "Hosting friends and families in Northern Virginia every fall is more than a tradition — it's a passion. The weather's beautiful, and there's nothing better to do with your time than to come and have fun on a farm."
His favorite part is the hayride. "We bill it as 'The world's best hayride,' and there's something for everybody," he said. "No matter how many times you take it, you'll always see something new. And that goes for me, too — and I helped set it up."