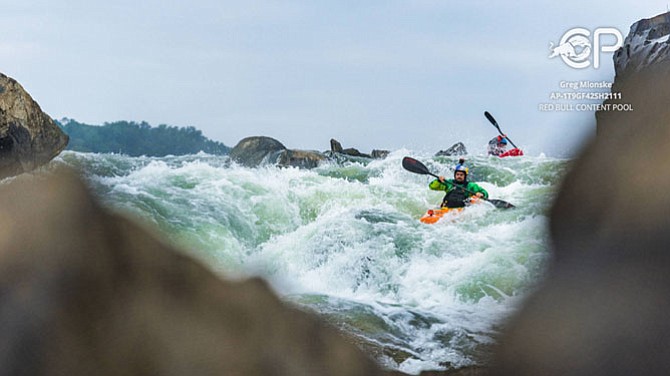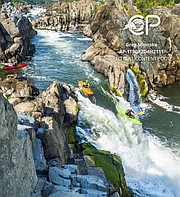 A Kayaker sponsored by Red Bull slid down the Potomac Rapids at Great Falls Sept. 6 with the help of professional kayaking pioneer, Tom McEwan.
Rafa Ortiz, of Mexico City, has been sponsored by Red Bull sports for eight years and says that the proximity of the falls to Washington, D.C., is what attracted him.
"Great Falls is just such a special place and my sport has always been about traveling," said Ortiz. "Just being able to go to D.C. and being able to experience amazing whitewater only 15 minutes from the capital was a great experience," said Ortiz.
The event happened Sept. 6 and was not open to the public. Great Falls is a popular place for experienced kayakers to try their will against the class 5 rapids. The Potomac River has been cleaned up significantly since the '60s and '70s, and is now safe for kayaking again.
"When I started paddling on the Potomac, if I had a cut on my leg and it got wet, it would inevitably get infected," said McEwan, 72. He still paddles on the Potomac River and was the first to descend the Great Falls in a kayak in 1975.
Ortiz specializes in finding the most exciting rapids and waterfalls around the world. "Great Falls is such an amazing playground with super challenging rapids and a unique layout," said Ortiz. "It's not easy to find this great of a rapids this close to a major city!"
The unique thing about the Great Falls rapids are the way that they are laid out he said. "They are not linear," said Ortiz.
"Usually we run a course from point a to point b that is about 4 to 5 miles long but the great falls are all parallel, and you go down one and back up and down again," he said.
Ortiz met McEwan in Mexico in the early 1980s where he was paddling in Vera Cruz on a river that was close to where Ortiz grew up. "It was inspirational to paddle with him," said Ortiz. "He's the original great falls Kayaker!"
"Any river in Mexico that is less than 100 miles from the city is going to be completely polluted and nasty," said Ortiz. "Having such a good quality of water in Great Falls so close to such a big population is really amazing."
Ortiz's kayaking of Great Falls coincided with World Rivers Day on Sept. 24.