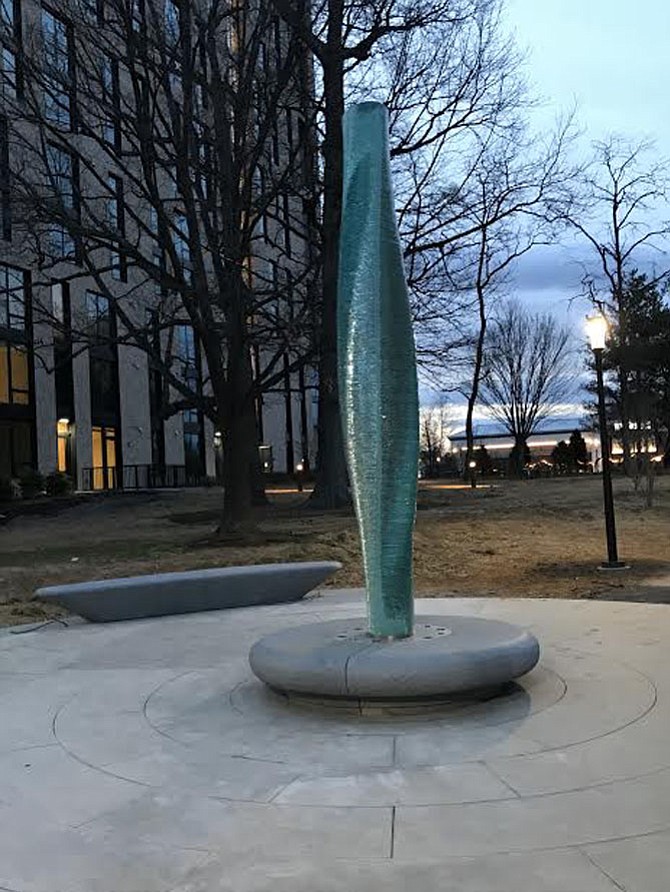 American artist Danny Lane created a twelve-foot, stacked, iron-glass sculpture on a granite plinth for Boston Properties, the owner of the luxury residential development, Signature, in Reston Town Center's urban core. The untitled sculpture is located within Signature Park at 11850 Freedom Drive, Reston. The site is still under construction.
According to Public Art Reston, "The gently twisting glass form and plinth are situated in the center of a circular area where three pedestrian paths converge. The circular area will be defined by a visible change in hardscape material, creating a transition from the community path to the sculpture site. The mission of Public Art Reston is to inspire an ongoing commitment to public art and create a new generation of artworks in Reston."
According to Anne Delaney, Executive Director Public Art Reston, a Grand Unveiling of the public artwork is in the works by Boston Properties. Delaney shared there will also be an Artist Talk with Danny Lane when he is back in the United States. Lane currently lives in London. For more information about the sculpture, visit www.publicartreston.org.