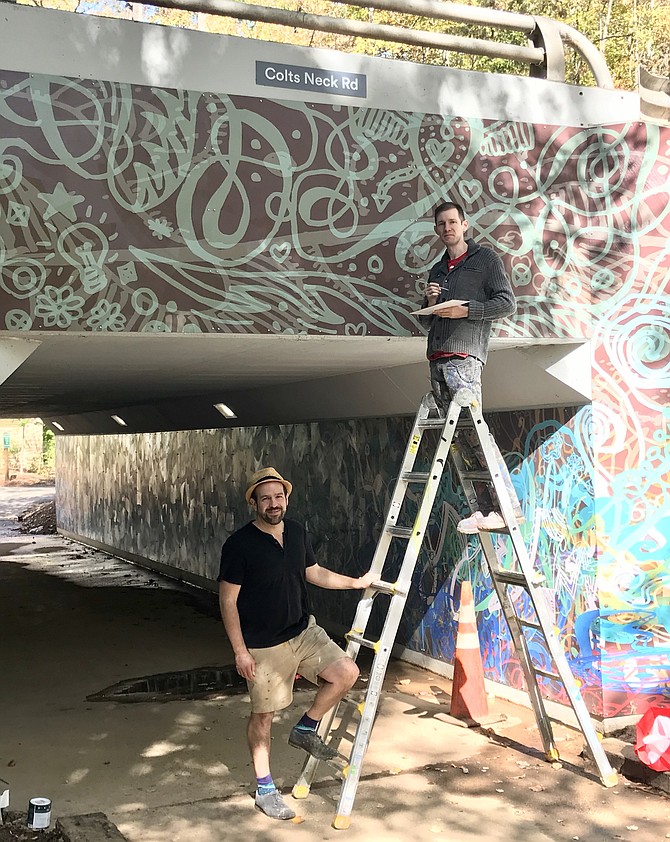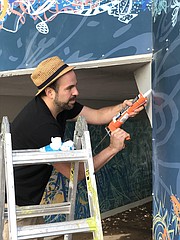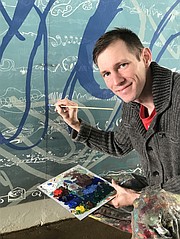 In the year 2060, older, middle-aged adults who participated in the design inspiration phase of the Colts Neck Road Underpass mural when they were elementary school-aged children will be able to walk with their adult children and grandchildren to experience a space transformed by bright color and the collaborative effect of 710 singular drawings, one theirs, added to a massive community art project covering the exterior facades and interior walls of the underpass. All thanks to the foresight of artist Ben Volta as he executed a work of public art to last generations.
Commissioned by Public Art Reston, Volta took calculated measures during the production phase of the community-inspired project finalized in 2019 to protect the mural panels against sun and element damage as well as vandalism. A few days before the Oct. 17 unveiling of the Public Artwork at Colts Neck Road Underpass, Volta shared, in a one-on-one interview, key processes and materials essential in the successful creation of the paneled mural, and safeguards he took to protect the investment.
INITIAL to the final design and large format printing, Volta conducted eight workshops, according to a statement issued by Anne Delaney, Executive Director of Public Art Reston. The design phase involved students at Hunters Woods and Dogwood elementary schools, and the Southgate Community Center after school program. Volta also sought input from residents at the nearby senior living communities at Hunters Woods Fellowship House and Hunters Woods at Trails Edge, as well as the community at large. "More than 600 individuals realized 710 drawings that Volta incorporated into the design," wrote Delaney in a statement.

According to Volta, he constructed his mural from the inside out, beginning with Omega-Bond aluminum panels, extremely flat, durable and powder coated for optimal performance, especially against water.
He said he chose these due to the possible harsh conditions of the underpass tunnel where water could seep and penetrate toward the panels. When installed, he would incorporate a "small gap" behind the panels for water to run down the concrete walls.
Volta said he lightly scuffed the panels with a 40 grit orbital sander to create a better bond, followed by coats of Golden Heavy Gel Adhesive. Next, he took the mural cloth, also known as PolyTab or parachute cloth, and applied a layer of Sherwin Williams Prep Rite Pro Block Primer, topped by coats of inkAID White Matte Precoat, creating a bright white surface ready for the printing and ink layer.
To produce an outstanding quality graphic image, Volta printed the mural panel designs high resolution. He used Epson UltraChrome Archival inks with his Epson SureColor 20000 Edition printer. He then applied a protective layer of Golden Gel Topcoat w/UVLS (with ultraviolet light filters and stabilizers) to protect the printed art panels from fading and deterioration.
"It's a great surface that feels as if it's painted," Volta said. "Then, on top of the topcoat, we did at least two coats of Golden MSA Varnish with ultraviolet filters and light stabilizers for added protection." According to Volta, if individuals vandalized the panels, the MSA varnish would protect the inked image beneath it. Removing the varnish with ammonia would remove only the graffiti, not the artwork.
Volta announced that he incorporated second additional lines of defense against graffiti and vandalism: he could recreate and replace any of the artwork panels. To do so, he would unscrew the damaged panel and replace it with a newly fabricated one. Volta added that, as the final line of defense, he secured each panel with approximately twenty small stainless steel screws. "It would be really hard to get something behind (one) and pry it," he said. Asked how long the fabrication took, Volta replied, "Four months." He noted a team of two worked on the panels.
LOOKING BACK on the entire process, Volta said, "The idea was that every drawing is included in the artwork. So when you walk through the tunnels, there are 710 drawings … some are more expressive squiggles. All you really needed to participate in the project was to be able to draw a line to connect one side to the other, and that was part of the openness of the project...The artwork is about its collective energy and coming together... It's about the experience, walking through it. Feel the color. Feel how it transformed the space."
Delaney said: "Volta was inspired by Reston's 55 miles of pathways and by a quote by the poet Henry David Thoreau: "Pursue some path, however narrow and crooked, in which you can walk with love and reverence." He asked workshops participants to draw a path and then, in the spirit of Robert E. Simon Jr., Reston's founder, to list "everything that you have seen or read about that is essential to your life and then add everything else that you can think of that makes living in Reston stimulating and worthwhile."
Access the Colts Neck Road Underpass Mural either by walking beside the path along Wells Fargo Bank, 2264 Hunters Woods Plaza, Reston, or beside the retirement community Hunters Woods at Trails Edge, 2222 Colts Neck Road, Reston.
Supporters of the Colts Neck Road underpass public art project to date include: Atlantic Realty Companies, Reston Association, ARTSFairfax, Reston Community Center, JBG SMITH, Virginia Commission for the Arts, National Endowment for the Arts, Pat & Steve Macintyre, Hunters Woods at Trails Edge, Lake Thoreau Entertainment Association, Storycatcher Production, and many other individuals. According to Public Art Reston, civic leaders and community organizations founded Public Art Reston in 2007 to re-invigorate the strong tradition of public art there. The organization is a 501(c)(3) non-profit organization that imagines public art throughout Reston that inspires the community and engages the mind and senses. Public Art Reston seeks to inspire an ongoing commitment to public art and create a new generation of artworks in Reston. For more information, visit www.publicartreston.org.