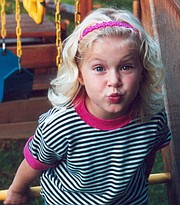 "The Centers for Disease Control and Prevention continues to recommend flu vaccination as long as flu viruses are circulating." — Dr. Benjamin Schwartz, Director of Epidemiology and Population Health for the Fairfax County Health Department
When Gary and Doris Stein's four-and-a-half year old daughter Jessica contracted a flu virus that was going around her preschool in 2002, like other teachers and students, she missed several days of school, but soon returned to her normal routine. The flu symptoms reappeared a few weeks later, however, and led to an emergency room visit. What happened next was every parent's worst nightmare: Jessica died due to an illness that resulted from the flu.
"Obviously it's a life-shattering moment, and we were dumbstruck at the time," said Gary Stein who lives in Falls Church. "We'd never gotten her a flu shot and we'd never gotten one for ourselves. We thought, like many people, that the flu was very much like a severe cold, and that flu shots were for those who were six months to two-and-a-half years old and 75 and older. There wasn't the predominate expectation that everyone got a flu shot."
The Stein's loss led them and a handful of families in similar situations to establish Families Fighting Flu, a national, nonprofit, organization based in Arlington, that is dedicated to protecting children, families, and communities against the flu by raising awareness and encouraging flu vaccines to prevent other families from experiencing their tragedy.

Even as flu season is winding down, vaccinations are still available, but it takes up to two weeks for the body to build immunity after the immunization. Is it worthwhile for those who haven't had a flu shot to get one in early April, when flu season is practically over?
"The Center for Disease Control and Prevention (CDC) and American Academy of Pediatrics (AAP) still recommend flu vaccines," said Dr. Tanya Altmann, pediatrician and spokesperson for Clorox. "Some years the flu will increase in the spring and you still want to be protected. Currently, the flu is declining around the country, but we are still seeing pediatric cases of the flu with high fever and sick kids and we know that those who did not receive the flu vaccine are more likely to get serious illness."
"I would say yes as flu is still around...Even with two weeks for full immunity, flu will likely still be around…," added Maureen Moriarty DNP, associate professor, graduate chair and director, DNP and RN/BSN programs at Marymount University. "You should not take the vaccine if you are currently ill with the flu. But could still take once you've recovered."
"Flu is still widespread in Virginia but the level is on the decline," added Dr. Benjamin Schwartz, director of Epidemiology and Population Health for the Fairfax County Health Department. "It's best to get vaccinated before flu begins spreading in the community; however, the Centers for Disease Control and Prevention (CDC) continues to recommend flu vaccination as long as flu viruses are circulating."
While the CDC reports that this flu season has been more severe than in recent years, the duration of the season is similar to seasons past. "The flu is more severe this year because it is not the typical mild strain we normally experience," said Gary L. Kreps, Ph.D., director, Center for Health and Risk Communication at George Mason University. "It is still worthwhile to get a flu vaccine because the flu season may continue longer than usual this year."
While flu season usually peaks from December through February or early March, and then winds down, timing of those peaks varies from season to season. "Today our message is focused on people protecting themselves," said Stein. "There are a lot of steps that people can take. A vaccine is the most fundamental line of defense that people can have. There's just no reason to take a chance with you and your family and your kids. Even if the vaccine's not foolproof, there's no reason to take a chance."