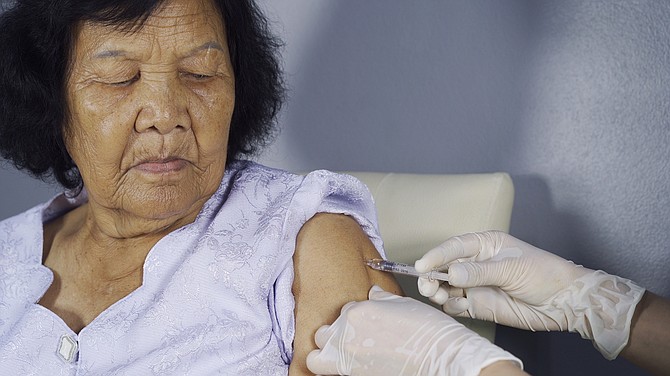 While shopping for dinner on a recent Wednesday afternoon, Roger Whitehead spotted a sign near the pharmacy of a grocery store near his home in Alexandria.
"It was easy. Once I'd picked up my groceries, I stopped by the pharmacy before I got in the checkout line," said Whitehead, 65. "I filled out some paperwork and rolled up my sleeve. It took about 30 seconds."
To stave off an onslaught of emergency room visits as a result of both the flu and COVID-19 cases, particularly for the elderly, local health officials, are underscoring the importance of the flu vaccination. While it differs from year-to-year, flu season is typically at its peak from December through February. Getting a flu shot can reduce the risk of being hospitalized.
"Older people with certain health conditions, in particular, are at high risk of serious flu complications," said Kurt Larrick, Assistant Director, Arlington County Department of Human Services. "The best way to prevent the flu is by getting vaccinated."
It's not too late to receive a vaccine and an option for seniors is Fluzone High-Dose Quadrivalent, licensed only for those over the age of 65. "It is especially important this year," said Dr. Travis Gayles, Montgomery County health officer. "[It] can also save health care resources for the care of patients with COVID-19."
Those over 65 are especially likely to get dangerously ill from catching the flu. "The flu viruses and the virus that causes COVID-19 are both spreading disease this flu season," said Shauna Severo, Director of Fairfax County Health Services. "As the incidence of COVID-19 increases the healthcare system could be overwhelmed treating both patients with the flu and patients with COVID-19."
Local jurisdictions launched campaigns to facilitate access to the flu vaccine and to increase awareness among those who have not yet received it. "Arlington has partnered with other Northern Virginia jurisdictions on the Stay Well Nova Campaign, which is providing education, outreach, and resources around flu vaccine," said Larrick.
The Centers for Disease Control and Prevention (CDC) recommend that everyone 6 months and older get vaccinated against the flu every year, especially people who are at high risk.
For More Flu Information: