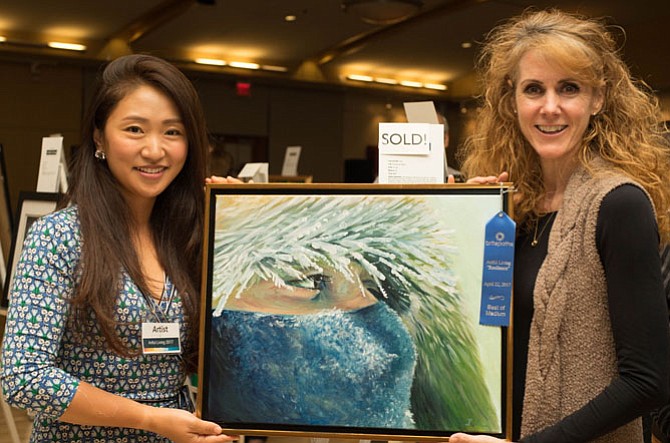 Fairfax-based nonprofit Britepaths (formerly Our Daily Bread) will highlight the work of local artists at Artful Living, a juried art show slated for Saturday, April 21, from 7-10 p.m., at the Sherwood Center, 3740 Old Lee Hwy. in Fairfax. Part of the Fairfax Spotlight on the Arts Festival, the theme is "Empowerment."
Cash prizes are available, and all the art will be for sale via a silent auction. The evening will also feature live music by local Latin-jazz band Batida Diferente, appetizers from Dolce Vita in Fairfax City, wine and craft beers. In addition, a live auction will offer items including tickets to the AT&T Pebble Beach Pro-Am golf tournament, a Bradford Portraits session with hotel stay, and a retail-therapy package at the Ritz Carlton.
Besides contributing toward the Spotlight on the Arts Scholarship Fund, this fourth-annual event benefits Britepaths' Fairfax County clients working toward financial self-sufficiency. They're able to do this through Britepaths' programs providing financial education and mentoring, emergency food, financial aid and seasonal assistance to working families struggling to make ends meet. And attendees will hear a story of resiliency and triumph from a client who achieved self-sufficiency with the help of these programs.
"Art has the ability to transform, which we feel speaks to our mission to empower those among us who are struggling, but working so hard to transform their lives," said Britepaths Executive Director Lisa Whetzel. "We hope everyone will join us for this unique event, made possible in partnership with Fairfax Spotlight on the Arts, that offers us an opportunity to look at the world around us through a different lens."
Admission is $45/person in advance and $50 at the door. Purchase tickets at http://britepaths.org/Art or at the event. For more information, call 703-273-8829 or email info@britepaths.org.
Artful Living is made possible by sponsorships from: Human Touch LLC; Ken and Linda Kozloff; Hamilton, Petrocelli, Sprissler & Sands LLP; Glenn Hediger and Nancy McLernon; Team Freiman at Morgan Stanley; Miller Consulting Group LLC; Giant Food; Loren and Birgit Hershey; Catherine Read and Tom Greeson; and L & M Printing.