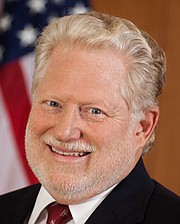 Herndon Town Councilmember, Jeffrey L. Davidson, 68, died Saturday, April 7, 2018, as a result of serious injuries sustained in a vehicle crash in Maryland on Thursday, March 29, 2018.
Mayor of Herndon Lisa C. Merkel announced Davidson's death on her Facebook page Sunday, April 8. "It is with a heavy heart that I share with you that our friend and colleague, Jeff Davidson, passed away yesterday (Saturday) as a result of injuries sustained in last week's accident. The Council and I are keeping his family in our thoughts and will let you know when any arrangements are announced."

An outpouring of condolences continues through Facebook. As of noon on Monday, Anne Curtis, Chief Communications Officer Town of Herndon announced town flags would be lowered to half-staff, effective immediately.
According to the Town of Herndon website, Councilmember Jeffrey L. Davidson had been a resident of Herndon since 1986 and was serving his first term as a member of the Herndon Town Council. He represented the town on the Inter-Jurisdictional Committee and the Northern Virginia Transportation Authority's Planning Coordination and Advisory Committee (NVTA-PCAC).
Davidson had served the Herndon community as president of the Towns on the Greens HOA, as a member of the town's Pedestrian and Bicycle Advisory and Historic Sign committees, and as a member of the Herndon Historical Society, including a term as vice president. Up until his death, Davidson chaired the Herndon Parkway Advisory Committee and served as a volunteer for the Herndon Festival and Friday Night Live. He was a 2012 graduate of the Herndon Citizen's Police Academy.
Davidson was an FAA Certificated Private Pilot with an Instrument Rating. He built and flew his own aircraft and was a member of Sterling Flyers Flying Club based in Leesburg, the Experimental Aircraft Association (National and Local Chapter 186), and the Aircraft Owners and Pilots Association.
The town website states, "In 2016, Davidson retired from the Defense Technical Information Center where he held technical, managerial, and program leadership positions over a 30-year career."