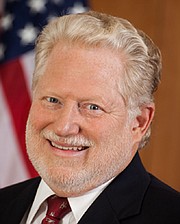 Maryland State Police in Frederick County, Md. are investigating a two-vehicle personal injury crash that involved Herndon Town Councilmember Jeffrey L. Davidson, 68. The accident happened on Northbound US 15 near Catoctin Hollow Road shortly after noon on Thursday, March 29, 2018.
For an undetermined reason, the car Davidson was driving traveled off the right side of the highway road and struck a metal guardrail. The vehicle continued north, crossed the median and entered the southbound lanes. The car collided with a Chevy pickup truck.
Davidson was transported to the State Police hangar at Frederick Municipal Airport and then medevaced to Shock Trauma Center in Baltimore with life-threatening injuries. The driver of the other vehicle, Jon Phebus, 50, of Gettysburg, Pa. was not injured.
After hearing about the accident, Herndon Mayor Lisa C. Merkel responded on the Mayor's Facebook page. Merkel asked the community to keep Davidson and his family in their thoughts and prayers. She wrote: "Jeff is a friend, a neighbor and a community leader. His passion for Herndon has helped to shape our town and will continue to do so."
As of Monday, April 2, Davidson remained hospitalized. Maryland State Police continue to investigate the crash. They ask anyone with information to contact Trooper Jeremy Hite at the Frederick Barrack, 301-600-4151.