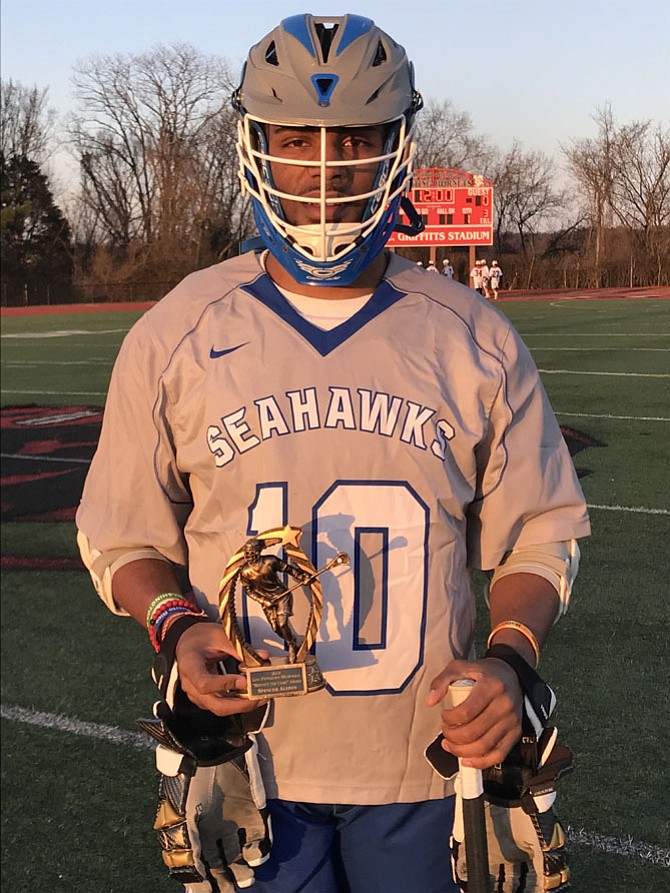 Spencer Alston, South Lakes High School Lacrosse player, received the 2018 Lou Peterson "Respect the Game" Award during the annual Lou Peterson Memorial Lacrosse Game between Herndon High School and South Lakes High School. The presentation occurred before the start of the game in Herndon, which if it had not been for Peterson would more than likely have pit rival team against rival team.
The award is given to both a South Lakes and Herndon High lacrosse player who exemplifies sportsmanship on the field, citizenship off the field and leadership in all endeavors. Jeff Donlan, a Herndon High School lacrosse player also received the award presented by Herndon-Reston Youth League (HRYL) in memory of Louis M. Peterson, who served as HRYL Commissioner from its inception in 1996 until his untimely death in 2013 during a kayaking trip.
Peterson was known as the ultimate champion and supporter of the Herndon Youth Lacrosse League and the Herndon High varsity girls' lacrosse team.
Stories are told how Peterson instilled a positive work ethic and sportsmanship into his practices of the Herndon Reston Youth Lacrosse League (HRYL). Friendships and bonds were made between the children on the league, whether they were from Herndon or Reston, it did not matter. Peterson acted as a bridge between the communities. Respect was the name of the game and Peterson instilled respect on the field and off the field.
The Herndon varsity lacrosse team lost Thursday's home non-conference game against South Lakes High School by a score of 12-1.