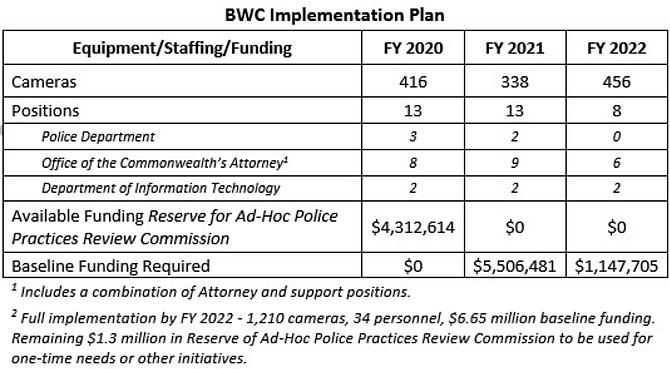 Following a 2018 pilot program and rigorous academic study, the Board of Supervisors today approved full implementation of body worn cameras (BWC), which is expected to begin in May 2020 and take three years to phase in countywide. The Reston, Mason and Mount Vernon district stations, which participated in the 2018 pilot, will be the first three stations implementing the program. A fully implemented BWC program will consist of 1,210 cameras issued to all district stations and other key operational staff. One-time funding is included in the Fiscal Year (FY) 2020 budget and baseline funding will be included in the FY 2021 budget and in future years, as required.
BWCs have many potential benefits and have been adopted by numerous other police departments and localities. Most importantly, BWCs are a tool intended to build and sustain trust between the community and police and enhance police legitimacy. Trust is the foundation of effective policing and has served the department and the county well in creating a safe community through co-production of public safety and engagement. An investment in BWCs is intended to provide a tool designed to enhance transparency and accountability and help bridge any lack of trust and confidence in our department.
At the July 9, 2019 Board of Supervisors' Public Safety Committee meeting, Chief Edwin C. Roessler Jr. and representatives of an American University research team presented a study of FCPD's body worn camera (BWC) pilot project, which took place March 3 to Sept. 1, 2018. The pilot included 203 body worn cameras distributed to trained officers at three district stations: Mason, Mount Vernon and Reston, as well as a sampling of Motor Squad officers and Animal Protection officers.
The American University research team surveyed community members and police officers to determine what effect the cameras had on police activity and perceptions of police legitimacy in the community. In addition, they analyzed data regarding the number and nature of complaints against officers from this time period.
Key findings of the study include:
There was overwhelming support among community members for the widespread adoption of body worn cameras.

The majority of community members who interacted with police officers during the pilot program reported feeling positive not only about the personal experience but also about FCPD as a whole.

There was no evidence that the presence or absence of a body worn camera during a police interaction had an impact on community member's satisfaction with FCPD.

There was consensus among the officers involved in the pilot that body worn cameras will increase the gathering of evidence and help settle complaints against officers.

Most officers believed that their behavior and that of community members did not change because of body worn cameras.
"As the Chief of Police, I fully support being transparent and accountable to our community," said Roessler in July. "We already have robust accountability tools with in-car video, the Civilian Review Panel and the Police Auditor. We investigate every use of force by matter of policy. The use of body worn cameras will benefit both the community and our officers to ensure that our high level of public trust is maintained."
Officers will be expected to activate the body worn camera during any law enforcement-public encounter related to a call for service, law enforcement action, subject stop, traffic stop, search or police service. The officer should start recording at their arrival/response, or as soon as it is practical and safe to do so, and leave it on for the duration of the incident. That includes transporting an individual to any detention facility. No law prohibits officers from recording citizens in public, as individuals in a public area have no expectation of privacy. The recording of any police contact with individuals in a private residence is also allowed, as long as the officers have legal authority to be in that location. If officers are in an area where individuals have a reasonable expectation of privacy, such as their home, individuals may decline to be recorded unless the recording is being made pursuant to an in-progress criminal investigation, arrest, or search of the location.
There are several circumstances and locations where officers will not record, including when in courthouses and medical facilities. In both of those instances, the camera should only be turned on if use of force is anticipated or initiated. Officers will also not record if community members are reporting a crime and request anonymity, or if they are giving a statement in an alleged rape or sexual assault.
The policy for the body worn camera pilot program was drafted with community stakeholders, including leaders of special interest, civic, and business organizations. There are several intricacies contained within the policy that address the personal privacy rights and constitutional safeguards of individuals while ultimately seeking to promote transparency and accountability in police-community member encounters. The body worn camera policy is posted online here:
https://www.fairfaxcounty.gov/police/sites/police/files/assets/images/chief/generalorders/sop18_056.pdf
All requests for body worn camera footage should be referred to the Media Relations Bureau's Virginia Freedom of Information (FOIA) Compliance Section (FCPDFOIA@fairfaxcounty.gov) for proper processing. Costs associated with the review and redaction of all Body Worn Camera and In Car Video footage will be charged to the requestor pursuant to Virginia Code Section 2.2-3704 (F).
Adoption of body worn cameras for officers comes following the Ad Hoc Police Practices Review Commission Final Report recommendations to outfit officers with body worn cameras.
The pilot body worn camera program was designed to provide the Department with the opportunity to review police-community member encounters as they occur, as well as provide an additional degree of safety for our officers as they patrol the streets.