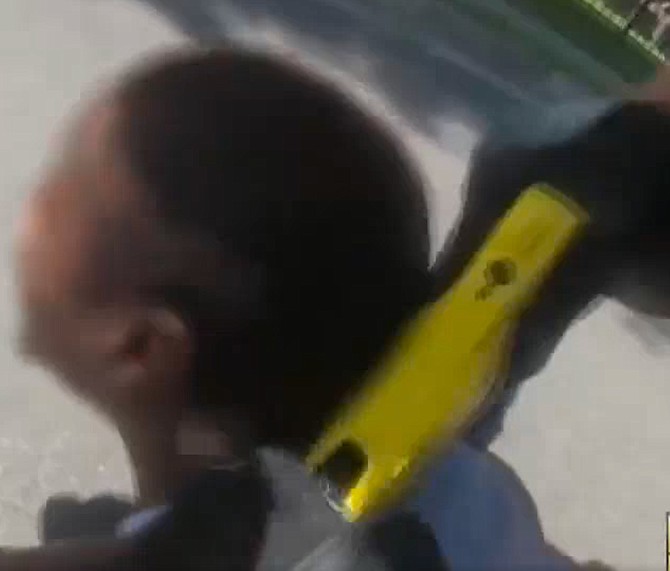 "The body-worn camera video I am releasing shows a Fairfax County police officer deploying force in violation of our use of force policies … They are criminal acts which violate our oath of office, and they ignore the sanctity of human life," said Colonel Edwin C. Roessler Jr., Fairfax County Police Chief the day after one of his officers deployed an "electronic control weapon," multiple times on an African American male who did not appear to be a threat. In a released video, the officer is shown using the weapon numerous times and in one instance with his knees on the man's back, the officer tases the man's neck. The victim calls out, "I can't breathe."
Fairfax County Police Officer First Class Tyler Timberlake, assigned to the Mount Vernon District Station for eight years, was charged with three counts of misdemeanor assault and battery, on Saturday, June 6, at the direction of the Fairfax County Office of the Commonwealth's Attorney,
According to police, officers responded to a call for service around 1:30 p.m. Friday, June 5, involving a man in crisis wandering in the roadway. As other officers attempted to de-escalate the situation working with paramedics to help get the man into an ambulance, PFC Timberlake arrived and used unacceptable force. Based on this action, Colonel Edwin C. Roessler Jr., Chief of Police, initiated criminal and administrative investigations.
The day after the incident, shortly before 11:30 p.m., Roessler hosted a press conference. He along with Steve T. Descano, Fairfax County Commonwealth Attorney and Jeff McKay, chairman of the Fairfax County Board of Supervisors updated the community on the investigation regarding the inappropriate use of force and the deployment of the taser that occurred in a Mount Vernon neighborhood.
Descano verified that the Commonwealth had filed three different charges of assault and battery against Officer Timberlake, and as a result, he faced up to 36 months in incarceration.
"First, we will seek justice in this case … Second, I cannot overstate the value and role that body-worn cameras have played in our investigation into this matter … and lastly, this county, Fairfax County is our home, and we hold ourselves to a much higher standard than what we see in this video … We will not tolerate this."
The Mount Vernon police district has body worn cameras because it was part of a pilot study, but the Board of Supervisors recently defunded plans to expand the body worn cameras to the rest of the county. FCPD's annual budget is more than $220 million.
Chief Roessler said, "Our nation is righteously angry at the law enforcement profession as am I … The Fairfax County Police department is engaged with its communities, and we value transparency, accountability and as evidenced by our civilian review panel." Roessler said the video erodes the public trust of police officers in the county and throughout the world. "These acts are unacceptable," Roessler said.
According to Roessler, the victim was treated at a local hospital and released. "I thank God through my prayers that he is alive and resting at home with his family. I've personally reached out to the victim and spoke with his mother to express my disgust with my officer's unacceptable criminal actions and assured her justice will be served. … I plead with our community to understand they are seeing transparency and accountability. I will ensure the police department serves justice."
Roessler said that in addition to the criminal investigation, he launched an administrative investigation. "The officer's horrible use of force shall be subjected to independent review by the Fairfax County police auditor," said Roessler. He added that all officers at the scene were relieved of duty, pending the outcomes of both the criminal and administrative investigations. Roessler said,
"[Timberlake] was relieved of duty and all his law enforcement authority." He noted that the administrative investigation would be swift; however, personnel regulations had to be abided for due process.
Supervisor Dan Storck, who represents the Mount Vernon District where the incident occurred helped to organize a march on Tuesday. "I am shocked, saddened and deeply troubled by this officer's actions," Storck said.
"The community needs increased accountability and transparency for its officers," said Sean Perryman, president of the Fairfax NAACP. "We need to reduce the interaction of Black people with armed officers because we see time and time again that we are viewed as a threat. This incident should never have happened."
The Fairfax NAACP is working to develop a host of changes to the way policing is conducted in the county, including how police respond to people in mental health distress. Fairfax NAACP will hold a virtual town hall on Facebook live with the Board of Supervisors and Roessler on Tuesday, June 16 at 7 p.m., where they will propose action on transparency and accountability locally.
Fairfax County Police most recent Use of Force Report for 2018 shows that while 9.7 percent of the Fairfax County population in 2018 was African American, police use of force incidents involved African Americans in 248 of the 510 cases, which is 48.6 percent of the incidents. FCPD has not yet released the 2019 report.
Police are currently working with a research team to study racial disparities in use of force incidents, said Chairman McKay in a general email sent on Saturday. Researchers from the University of Texas at San Antonio and the University of Cincinnati anticipate a report at the end of January 2021.
This article was updated on June 10, 2020.