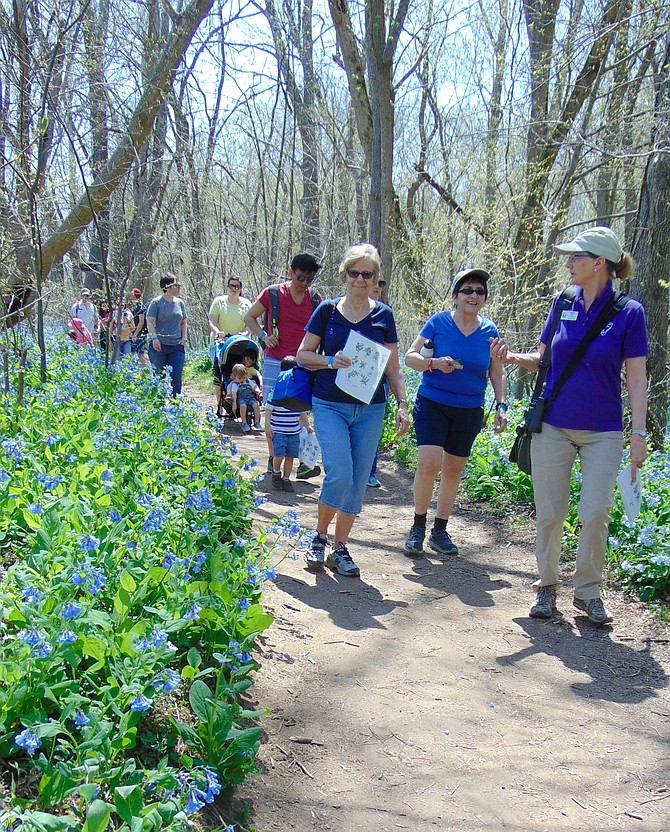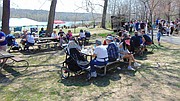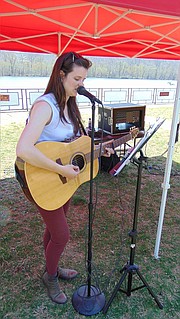 Riverbend Park in Great Falls held its annual Bluebell Festival on Saturday, April 14, 2018. Wildflower walks every half hour to look at the Virginia bluebells, which are now in peak bloom, and other wildflowers, were the highlights for many visitors. At the end of the trail, visitors could look through a telescope to see an eagle family in its nest on Minnehaha Island.
Other activities included puppet shows, live music by Alyssa Janes, a moon bounce, wagon rides, face painting, meet the animals, tour a model longhouse, and arts and crafts.
"The Virginia bluebells are native North American plants. They're not bluebells like the European bluebells. They're actually related to forget-me-nots," said Naturalist Marijke Gate. "They're a plant that grows naturally here in the floodplain. They like the slightly damp soil, so they've been here many decades. They root vegetatively, so they form a large colony. Their other name is the oyster leaf because their leaves taste a little bit like oysters and you can eat them in salads. And they're also called the lungwort to help people with lung disorders in the old days. It's an old English word for a herb."
Riverbend Park is located at 8700 Potomac Hills Street, Great Falls, VA. Call 703-759-9018 or visit www.fairfaxcounty.gov/parks/riverbend.