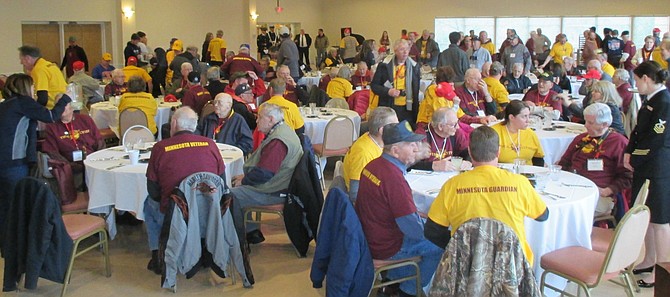 Several years past, someone noticed that many veterans of the armed forces, and especially those up in years, had never visited Washington, D.C. to see the memorials on the National Mall intended to honor them. The solution became Honor Flight Network. Originally designed for the dwindling numbers of those who served in World War II, the mission gradually has unfolded to include Korean War and Viet Nam War veterans.
Honor Flight Chapters organize at the local level. When a sufficient number of former servicemen and servicewomen in a geographic area express an interest, a commercial passenger aircraft is donated by or chartered from a cooperating airline. Due to infirmities of age or health, more than a few honorees are accompanied by personal assistants called guardians.
Upon arrival in a Washington area airport, a crowd — make that a very vocal crowd of travelers and flight crews — invariably provides welcoming cheers and applause. Buses carry the veterans and their aides in and around Washington's Mall and Arlington while volunteers acting as tour guides recite the histories and artistic data of the many memorials of past conflicts.
Not much time is wasted in the well-known local traffic jams thanks to uniformed police officers from the Park Service, Virginia State and Arlington who escort the buses and smooth the way. A major concern for Honor Flight organizers has been to find a place where the visitors could stretch their legs, visit a restroom and have a meal. In large part, the solution for these needs was found in Arlington, specifically at Edward Douglass White Council (EDW), Knights of Columbus. The 5115 Little Falls Road site can accommodate at least four large buses and more than 200 guests, be it a simple box luncheon or a complete, white tablecloth hot meal at suppertime. Owen Beirne, Jr. is EDW's liaison to the Honor Flight Network organizers over recent years. Asked why EDW undertakes to host so many visiting delegations, Beirne cites community service, having in mind the much larger community of Honor Flight Network's coast-to-coast chapters. He adds, "Because we can."
Ample parking, full-scale modern kitchen, a dining hall and whatever number of volunteers is needed, all enter into the mix. Beirne says long-term personal involvement with Honor flight results from his father's service during World War II. He also laments that young people today have lost a sense of history and knowledge of the sacrifices others have made to defend our freedom. Seeing dozens of proud "old-timers" helps to cure that situation. It is even better, he says, when a young person has a few moments of conversation with one of the featured guests.
As with the airport arrivals, a rousing welcome greets the guests of honor on arrival at EDW. Honoring the veterans is an act of patriotism and gratitude, but it also is fun. Entire families, troops of Boy and Girl Scouts and Campfire Girls, homeroom classes and sports teams line the path from bus to building, applauding and waving flags and telling the guests how much their service to the country still is appreciated. Members of the younger set are seen handing out their homemade notes and drawings. Occasionally, a musical group from a nearby senior center or local school will contribute to the excitement. Waiting and greeting usually take less than an hour.