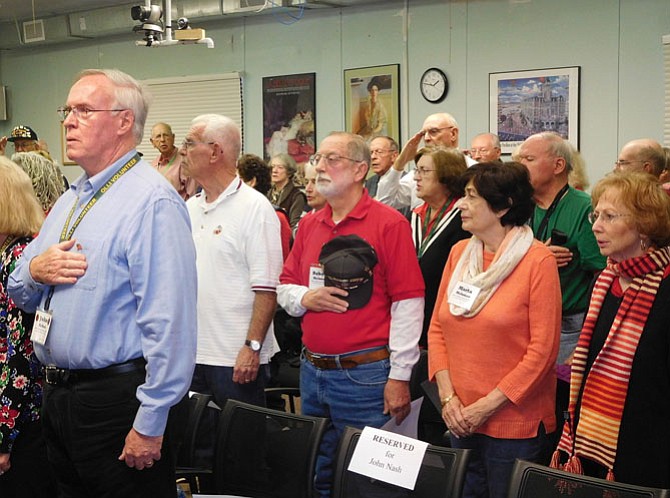 Veterans Day is more than a federal holiday. It is a time when people throughout the country remember and honor America's military veterans and all they have done.
And last Wednesday, Nov. 11, members of the Osher Lifelong Learning Institute (OLLI) in Fairfax did just that. They held a special, Veterans Day program featuring the City of Fairfax Police Honor Guard and a showing of the award-winning documentary, "Honor Flight."
OLLI is a nonprofit, educational organization affiliated with GMU, and nearly all its members are retirees who attend classes taught at the Roberts Road facility by volunteers. Nearly 85 of them attended last week's event organized by OLLI Board of Directors member Martha Powers.
Veterans of all branches of the service were recognized, and some of them shared their stories with the crowd and with The Connection. Chester Myslicki, for example, is now 95, but joined the Army at age 22. He worked in radar and, during WWII, he set up the largest radar station in the world in Japan to help the U.S. military.
Navy veteran Adrian Pelzner also served in WWII, on a supply ship – which was critical to America's fighting force. "It made a big difference to my life, and so did the G.I. Bill, which allowed many of us to go to college," he said. "As a result, members of the middle class were able to become doctors, lawyers and engineers."
Army Col. Jim Dunphy (Ret.) lives in Fairfax's Kings Park West community; he served five years in the Army and 25 years in the Army Reserves, retiring in 2005. While on active duty from 1975-80, he was at the Army Training Center in Fort Jackson, S.C. "It was after the transition to a volunteer Army and women in the military," he said. "So it was an interesting time to be in the Army."
While in the Reserves, Dunphy worked at the Pentagon as a Latin-American specialist. "During the first Gulf War in 1990, I was responsible for getting all the current intelligence from the embassies," he explained. "Then I'd analyze it and come up with the hottest issues the generals needed to know about Latin America." Dunphy liked his job because "it was real-life stuff – it was really happening, not theoretical."
Bob Coffin, of Fairfax's Country Club View community, was in the Army for 22 years, retiring in 1986 as a lieutenant colonel. He served in Saigon from 1979 to 1980. "I worked with South Vietnamese counterintelligence, analyzed possible national-level sabotage threats and supported out-of-country operations," he said. "I later ran a spy operation in the Mekong Delta."
PRIOR TO THE VIETNAM WAR, he did a great deal of counterintelligence work in the U.S., as well. "In the late 1960s, I took a team from Minnesota to Chicago after Martin Luther King, Jr.'s assassination," he said. "There was unrest, and we reported what was going on with the populace to an Army intelligence group. Crowds were looting, setting fires and shooting."
Both Dunphy and Coffin were pleased with OLLI's Veterans Day program. "Vietnam vets weren't welcomed home, but there's been a sea of change in people's attitudes toward the military since then, and it continues today," said Dunphy. "There's support now."
Agreeing, Coffin said, "Coming back from Vietnam, people were spitting at us. So it's nice to have some recognition. I believe in duty, honor and country – they mean something to me."
Last week's ceremony began with the presentation of the colors by the police honor guard, followed by a reading of a poem about Arlington National Cemetery by Army Col. Michael McNamara (Ret.). Then came a screening of the moving and powerful movie, "Honor Flight," about the program that flies thousands of WWII veterans from all across the country to see the WWII Memorial in Washington, D.C.
"These trips are called Honor Flights," said Powers. "And for the veterans, in their late 80s and early 90s, they are often the last trips of their lives."
Narrating the movie was Stars and Stripes Honor Flight Chairman Joe Dean, who began the program in tribute to his late father and all WWII veterans. "They came home from the war, put their duffel bags in the closet and never talked about it again," said Dean. Only after his father's death did he learn the full extent of his father's war service as a medic's assistant.
Dean then began Honor Flight in his home state of Wisconsin and it eventually spread throughout the country. Volunteers accompany each veteran on the flight to Dulles International Airport and go with them to the WWII memorial and other places, including the USMC Iwo Jima memorial and Arlington National Cemetery.
Thrilled with the program's success and the impact it makes upon the veterans' lives, he said, "To talk with them and thank them for all they've done was something I couldn't pass up. Theirs was a generation that gave, and Honor Flight is our way of giving something back. We will never forget what our veterans did, and their legacy will continue. They matter, and we remember."
AFTER THE MOVIE, OLLI members John Nash and Toni and John Acton addressed the crowd. All three are Honor Flight volunteers who greet the veterans as they arrive at Dulles, and Nash called it an "absolutely amazing experience."
"At the airport, we get them from the 'people mover' to the main terminal and onto buses," said Toni Acton. "This is one of the most rewarding experiences we've ever had."
"As they arrive here, there's a band playing, kids are waving, and you can see the veterans' emotions building," added her husband, John Acton. "And talking with these veterans is incredible and awe-inspiring."