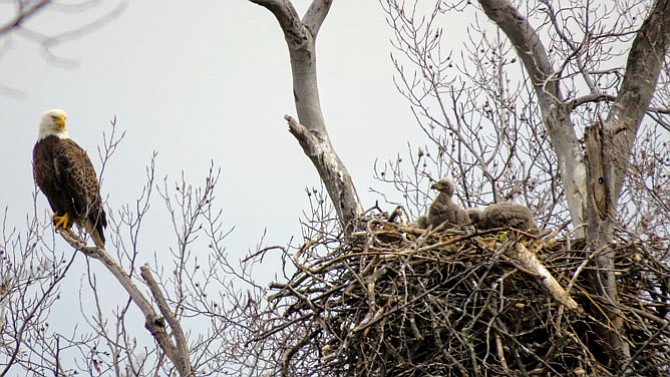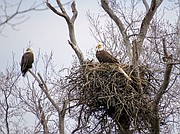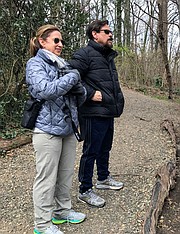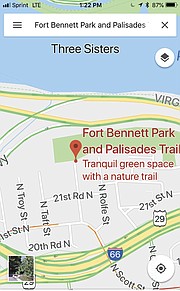 Some nearby neighbors call them Thom and Sally tongue-in-cheek, since another Bald Eagle pair further down the river has been dubbed George and Martha.
But the pair raising three chicks overlooking the Potomac River at the confluence of Spout Run and the George Washington Memorial Parkway seem accustomed to modern mayhem and urban life.
This includes the constant roar of traffic on the parkway and low-flying helicopter traffic along the Potomac River. Last year the eagles raised two chicks in the same nest while National Park Service arborists cut down ash trees with damage by the Emerald Ash Borer right next to them. The non-native, invasive emerald ash borer infests ash trees and is nearly 100 percent fatal to infested trees, the park service said. Parks are cutting down damaged ash trees that pose a threat to structures, trails, and roadways along the George Washington Parkway and other parks in the region.
The massive nest sits between the northbound and southbound lanes of the George Washington Memorial Parkway at Spout Run, and the nest is visible from the southbound lanes, although it will disappear when the trees leaf out. Neighbors say that the nest continues to be visible from the Palisades Trail in Arlington's Fort Bennett Park.