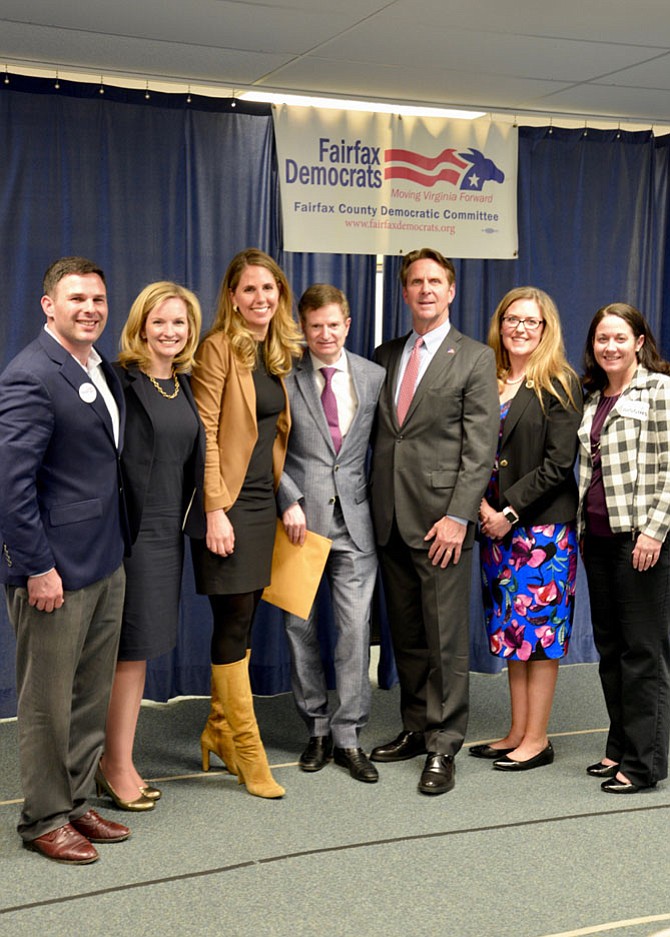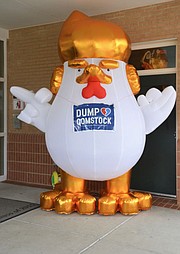 The six Democrats, four women and two men, competing for the chance to unseat incumbent U.S. Rep. Barbara Comstock (R-10) come November took to the stage to face each other and more than 300 interested citizens from around the widespread boundaries of the 10th Congressional District which includes Loudoun, Frederick and Clarke counties, and parts of Fairfax and Prince William counties. The forum was hosted by the Dranesville District Democratic Committee at Colvin Run Elementary School in Vienna, and introduced by the organization's Chair, Jennifer Adeli.
There was much agreement among the candidates as they answered questions posed by moderator Glenn Kessler, the Washington Post Fact-Checker columnist. The crowd applauded enthusiastically as the contenders lambasted Comstock, President Trump, and the Republican Congress on issues that included the Trump Administration's attacks on the Affordable Care Act, the future of Social Security, climate change, sanctions against Iran and Russia, DACA and immigration reform, the recently passed Tax Reform bill, tariffs and the U.S.'s departure from the Trans-Pacific Partnership.
ALL OF THE DEBATERS expressed their support for the Affordable Care Act and their anger at how the program is being diluted, while offering differing solutions on the general topic of healthcare.
Lindsey Davis Stover, who served as a Chief of Staff on Capitol Hill, as well as a Senior Advisor at the U.S. Department of Veterans Affairs under President Obama, declared that access to affordable and quality healthcare "shouldn't be something we have to keep marching for. It's a right, not a privilege."
Two-term Virginia senator Jennifer Wexton and Paul Pelletier, a former federal prosecutor, both support adjusting the financial threshold for the Affordable Care Act to allow more citizens to qualify for subsidies, with Pelletier adding that controlling fraud would help drive down costs.
Wexton lauded "Obamacare" as a good first step, saying that "we don't need to reinvent the wheel" and that a sliding scale based on ability to pay should be investigated. "Let's get creative."
Dr. Julia Biggins, an infectious disease scientist, took the healthcare issue a step further, saying she would vote for a threshold increase while working toward a "single-payer" healthcare system and a focus on preventative care. "Let's shoot for the moon," she urged, saying that to date, Congressional efforts in this area have been "Band-Aids" on the greater problem. "It's complex," she added, "but we've been talking for decades." Biggins also believes that healthcare should be a government responsibility, and not tied to employment.
West Point graduate, Rhodes Scholar, and veteran of the wars in Iraq and Afghanistan, Dan Helmer envisions a system where Americans can opt into Medicare. Helmer's insistence that the Government's ability to use scale be "unleashed" to negotiate drug prices received a roar of approval from the attendees.
Questions concerning the Tax Reform Act also drew criticism from the candidates and approbation from the audience on their negative commentary.
"It's a horrible product for many reasons," was Alison Friedman's assessment. Friedman is a former senior official with the Obama Administration's State Department, authoring legislation to combat human trafficking and protect voting rights. In her estimation, the Tax Reform Act is anything but, benefiting corporations and the wealthy above working families, singles, and those in most need.
Helmer called the legislation "one of the most unpatriotic" bills ever passed, and thinks a complete re-write is needed, "starting from scratch" to get it right.
The Republicans' immigration bans and reforms and the proposed Border Wall also got a bashing from the candidates, with Davis Stover describing both as "heartless and bad economic decisions" and calling attention to the exemplary safety record of the city of El Paso, Texas "right there on that border. The 'wall' isn't about national security. It's a symbol of hate."
Friedman, who at one point during the two-hour debate called Donald Trump "the greatest threat to our national security," added that among the many reasons to run against Comstock, the comments she made during a debate when first running for Congress, likening the tracking of immigrants entering the country to tracking FedEx packages "are up there on my list."
"All my time in Iraq and Afghanistan, I never thought we were fighting to deport children," added Helmer.
If moderator Kessler was hoping to catch the candidates off guard with a direct question asking if they would support Nancy Pelosi in a Congressional leadership role if elected, first-to-the-mic Friedman wasn't phased. "Lucky me to get this one first!" she quipped, then fired back.
"This is not the conversation that we should be having now," she said, insisting that Democrats needed to avoid "being divided," and needed to pull together and stay on message.
While acknowledging Pelosi's contributions and service, Helmer suggested that it was time for a new generation to take the helm in Congress. "There is something wrong with our politics," he said, "that made so many willing to vote for Donald Trump."
Helmer was also the candidate to turn up the heat on one of his opponents when the issue of gun violence was raised. Helmer called out "someone on this stage" who he said accepted money from the National Rifle Association and other corporations during her political career, and who had voted for legislation approving reciprocity for permitted carriers of concealed weapons from other states.
SEVERAL OTHER QUESTIONS were asked of the candidates and answered, but Helmer smoothly looped back to the gun control issue and acceptance of corporate political contributions.
Sen. Wexton was ultimately identified as the target of Helmer's attack and Kessler gave her the opportunity to respond.
Pointing out that among the candidates she was the only one to ever hold elected office, Wexton said "this is what you do when you govern. You compromise." She further defended her vote saying that the bill was the result of a deal between the NRA, Republicans, and then-Gov. Terry McAuliffe and that its passage aided victims of domestic violence and allowed background checks at gun shows.
Wexton later acknowledged taking contributions from Dominion Energy in previous campaigns, but has already pledged not to take PAC money during this election.
Despite those few more heated exchanges, the candidates and their supporters seemed focused on the goal of continuing the "Blue Wave" that saw a dozen Democrats sweep into office in Richmond, and their mission to "replace and repeal Barbara Comstock" as Alison Friedman put it. Attendees like Susan Jacobs of McLean who backs Dan Helmer and thinks he's the best chance to beat Comstock, and Andrew Fierro of Great Falls who supports Dr. Biggins, both say they are rooting for their candidate, but will support whoever wins the June 12 primary.