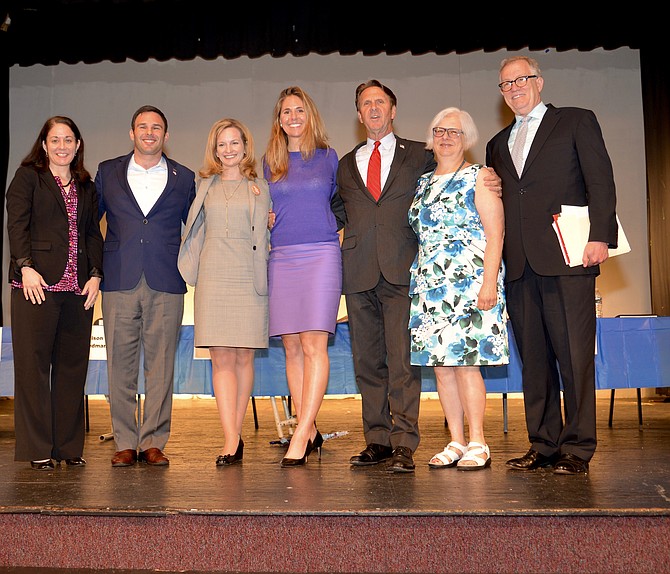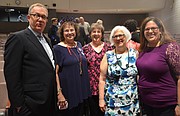 With only three weeks left until the June 12 primaries, when one of them will be chosen to challenge two-term incumbent U.S. Rep. Barbara Comstock (R-10), the six Democratic candidates continue to circle the widespread 10th Congressional District, individually holding events and knocking on doors, as well as meeting on stage in their battle to differentiate themselves from each other.
One of the latest combined candidate forums took place in the Chantilly High School auditorium on Tuesday, May 22, hosted by the Sully District Democratic Committee and their neighbors in the Hunter Mill District. Before turning over the microphone to event moderator Robert McCarthy, senior regional correspondent covering government and politics for the Washington Post, Sully District Democratic Committee Chair Maggie Godbold made the opening remarks to the crowd that turned out despite spurts of torrential downpours. Before passing the baton, however, Godbold informed the contenders that she was still an undecided voter, but planned to make up her mind that evening before casting an early voting ballot the following morning.
"So, don't any of you feel any pressure," she quipped.
As the candidates took their seats on stage, there was one noticeable absence: state Sen. Jennifer Wexton (VA33) was missing from the forum, having been called back into session in the General Assembly in Richmond.
"Jennifer wishes she could be here tonight, but she is back in the capital, working on the budget, pay raises for teachers, and more," said Sully District Democratic Committee Treasurer Jerry Foltz, offering Wexton's apologies. Foltz temporarily represented the senator, delivering her opening statement in her stead, but could not participate further in the proceedings. Left to tackle the remarks, question, answers and rebuttals were: Julia Biggins, Alison Friedman, Dan Helmer, Paul Pelletier, and Lindsey Davis Stover.
Moderator McCarthy received praised from audience members after the forum for "keeping the questions concise and not rambly," as Evelyn Schumacher of Chantilly said. "In some of these debates, the questions are so long and involved that the candidates can only answer in general, with nothing specific."
McCarthy did keep the questions — several of which were submitted in writing by attendees prior to start time — short and to the point. "And the candidates have asked me to skip straight to the issues," he added. "They don't want to waste time on the question of whether or not they will each support whomever wins the primary. That answer was 'Yes' from all of them."
Standing out in the candidates' crowd can be difficult, especially when there is substantial agreement among them.
Candidate Alison Friedman, a former Obama Administration official launched the first salvo in the effort, by calling out the absent Wexton on some of her votes in the Virginia Legislature, as well as for having taking corporate PAC donations in past elections.
Friedman also spoke out strongly for diplomatic solutions to "undo what Trump has done" to the country on the world stage.
"We need to re-staff the State Department, support and lift up our dedicated federal workers" especially in the intelligence and diplomatic agencies, to restore what she sees as "our devastated reputation around the world."
Julia Biggins, with a doctorate in molecular virology from Baylor College of Medicine, looks to her scientific background and approach for her candidate identity, saying that it is time for the "professional political class in Congress" to be replaced by "real professionals." Biggins also commented that in all her years of dealing with infectious and dangerous diseases, she has "never seen a disease like what is running through our Congress right now."
All six candidates favor some level of gun control. Dan Helmer, who believes he has "the best change to defeat Comstock," offers not only his education, including having been a Rhodes Scholar at Oxford University, but also his military service as an advantage. Helmer served several tours of combat duty in Afghanistan, and Iraq.
"I have carried weapons of war," he said, "and I can say they have no place on our streets."
Lindsey Davis Stover, like Friedman, served in the Obama administration, after working as a chief of staff on the Hill. Her commitment to ending gun violence recently took a more personal turn. Three of her cousins back home in her native Texas are students at Santa Fe High School, the scene of last week's school shooting that left 10 dead. "Thankfully, they are all OK. But I am hell bent on changing this situation, whatever it takes."
Paul Pelletier presses his years of service and accomplishments as a federal prosecutor as part of the strengths of his candidacy. "I am a problem-solver. We need someone who can do just that and help fix our broken government." Pelletier submits that he can bring all elements of the Democratic Party together to get the win. "We need more than a Blue Wave. We need a Purple Tsunami to get where we need to be in November and beyond."
Pelletier and Biggins are both supporters of a single-payer healthcare system and both think that an overhaul of the system, tackling the costs of medical treatment and pharmaceuticals are needed.
Jennifer Wexton is the one candidate with experience as an elected official, and has represented many of the constituents in the area covered by the 10th Congressional District. Wexton also comes with big-name endorsements, including Gov. Ralph Northam. Wexton feels she is the right choice, since she has already built a strong network in the community and learned the art of successful bipartisan negotiation, "without compromising our values."
After the forum, did anyone turn the tide with the "undecideds" like Maggie Godbold?
A quick "stop and poll" as the audience was departing the event indicated that many of those who hadn't made of their minds before the forum, are still doing some "compare and contrast" before throwing their support behind one particular candidate. But like the candidates themselves, those questioned declared that once a Comstock challenger had been selected, they were prepared to offer their full support and their vote in November.