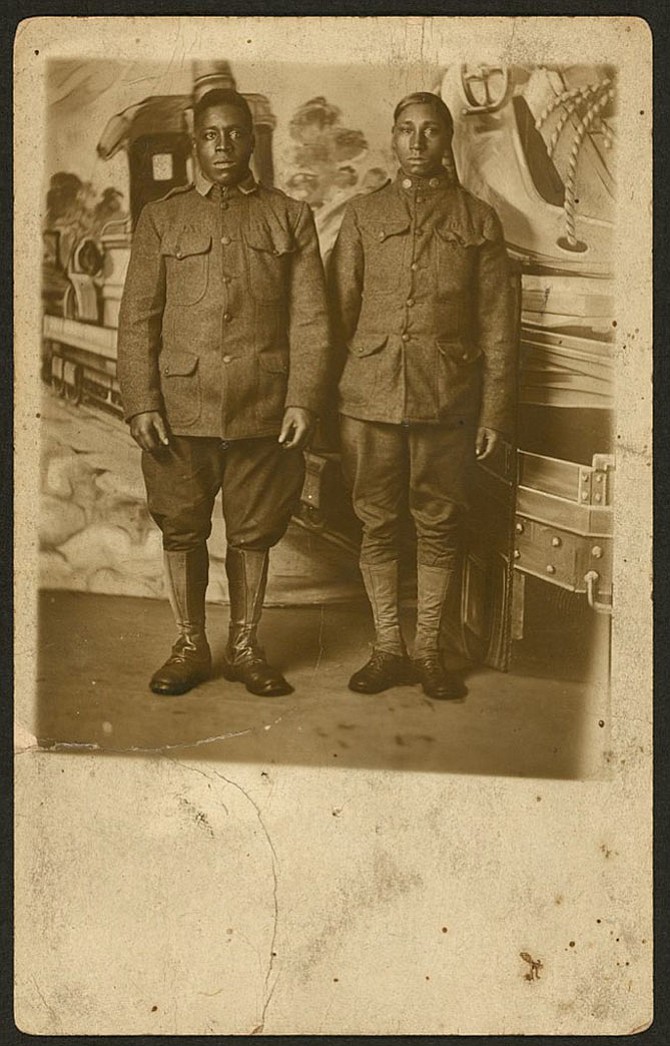 On Oct. 28, 1917, the colored citizens of Alexandria had a send-off parade for 52 colored drafted men leaving for Camp Lee in Petersburg. At least a thousand people attended the parade. The parade marched down King Street to City Hall where all the draftees and members of the draft board lined up. The troops of cavalry from the St. Asaph Camp and a colored band led the procession from City Hall to Union Station. Everyone in the parade carried the United States flag, and two cars carrying gifts and a huge basket of fruit followed. Reverend William H. Powell, pastor of Alfred Street Baptist Church addressed the draftees. Three of the 52 soldiers from Alexandria are highlighted.
Private Ulysses Garnett Bell was 29 years old, and he was among the 52 soldiers leaving for Camp Lee. He married Beatrice Brown in 1914. They had one son, Edward Ulysses Bell and they all lived in the household of Ulysses' mother, Georgiana at 1307 Queen St. Ulysses spent two years in the military, and after returning from military duty, he attended college for two-years. He landed a job with the Government Printing Office in Washington, D.C. After the death of his wife, he moved to Washington, D.C., in the 1930s. Bell died on December 18, 1945, at his residence, 610 3rd Street, SE. His funeral was at Shiloh Baptist Church in Alexandria.
Private Courtney Hauls was another draftee from Alexandria. He followed in his father's footsteps, Cyrus Hauls (Buckner) was a Civil War veteran. Courtney was 27 years old and lived with his mother at 1010 Wythe St. when he was drafted. He spent two years in World War I. He married twice. By 1920, he migrated to Essex, N.J. with his second wife, Viola. On June 1, 1982, eight days before his 91st birthday he died in New Jersey.
Private William Thomas was another draftee, and he left for military duty on Oct. 28, 1917. He, like the other soldiers enjoyed the celebration, the band, the parade and gifts from the Colored Alexandrians as he and his comrades made their way to Union Station. Unlike many of William's comrades, he would never return to Alexandria. Thomas was in the Army in Company H, Regiment 369th Infantry. On Sept. 28, 1918, he was the first Colored person to die from Alexandria in WW I. He was buried with the 93rd Division, in Meuse-Argonne Cemetery, Romagne, France in Plot C, Row 20, Grave 5. He left behind his wife, Mary Coleman-Thomas. She never had the chance to attend her husband's funeral. But Thomas was not forgotten by the African Americans of Alexandria. In July 1931, the "First Alexandria Negro American Legion" was named American Legion William Thomas Post No. 129. Williams' wife, Mary lived to see her husband honored. She died three years later in 1934.
The Alexandria Exemption Board certified men for the Army. By August 1917, the board had certified 131 men from Alexandria, including Bell, Hauls and Thomas. The quota for Alexandria was 153 men who were needed to serve their country in WW I. The Exemption Board needed to draft more men to make their quota. Again, Alexandria marched down King Street with their parades, band, gifts and speeches for the brave men who were about to fight for our freedom and values.
This year we will celebrate 100 years since our Alexandria veterans participated with other American veterans to end World War I. African Americans again played an important role in fighting for freedom. These Colored Troops made us proud.
Char McCargo Bah is a freelance writer, independent historian, genealogist and a Living Legend of Alexandria. Visit her blog at http://www.theotheralexandria.com for more about "The Other Alexandria."