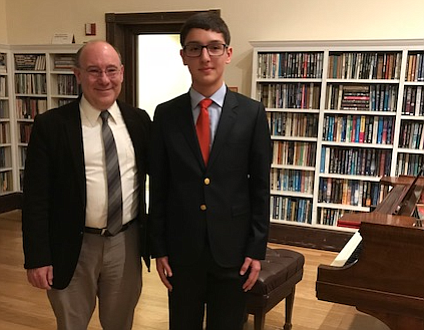 Tuba player Diego Stine of Vienna, a George C. Marshall High School junior, has won the 2018 Young Artist Competition sponsored by the City of Fairfax Band. He is the first tuba player to win the instrumental music competition and will showcase his talent as soloist at the Band's May 19 concert, 7:30 pm, at the Fairfax High School Auditorium.
Though only a junior, Stine has already amassed impressive musical accomplishments. As a member of the National Symphony Orchestra's Youth Fellowship Program he has played on the Kennedy Center's Millennium Stage and in the Concert Hall. He also performs in the Washington area's American Youth Philharmonic and is part of the select Brass of Peace music coaching program preparing young musicians for success in very competitive field.

Diego also has won seats in his All-District Band, Virginia's All-State Band and Orchestra, the Senior Regional Orchestra, and the National Youth Orchestra II. At school he plays in the concert, jazz and marching bands. Additionally, he shares his talent with his church.
Why tuba? After studying piano, string bass and euphonium, Diego settled on Tuba in 5th grade, because "I like the big, deep sound."
As he looks to the future, Diego wants to be a tuba performance major in college and would like a playing career in one of the military bands or a major symphony orchestra.
Stine's teachers include tubists David Fedderly, retired from the Baltimore Symphony Orchestra, and Stephen Dumaine of the National Symphony. An earlier teacher was his father Daniel Stine, euphonium player and band director.
Since 1996, The City of Fairfax Band Association has sponsored its Young Artist Competition to encourage the development of stand-out high school musicians who plan to pursue a musical career. More information about the competition is available at https://www.fairfaxband.org/young-artist-competition/ .
At the Fairfax Band's May 19 concert, Stine will perform the "Tuba Concerto, Mvt. 1" by Edward Gregson. The concert begins at 7:30 p.m., at Fairfax High School, 3501 Rebel Run, Fairfax. Tickets are available at the door or online at https://www.fairfaxband.org/.