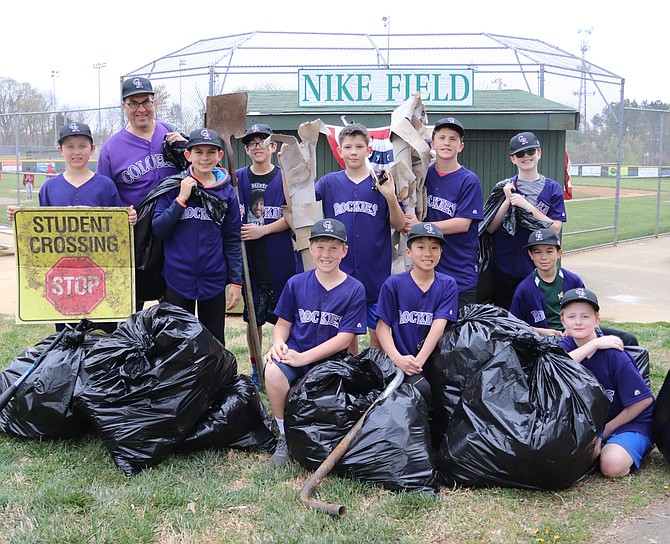 On Saturday, April 14, Great Falls Little League (GFLL) kicked-off another spectacular opening day ceremony. For baseball and softball families, it's a memorable experience. The beauty of the NIKE fields adjacent to Forestville Elementary school, contributes to the overall pageantry.
The Rockies Majors team wanted to do its part to maintain GFLL's wonderful fields by undertaking a NIKE-wide clean-up campaign.

So, on Sunday, the team gathered before 10 a.m., divided into six groups of two, each armed with 50-gallon garbage bags, and spread out to cover as much territory as possible, picking up litter on and along the fields, including any adjacent areas that could be seen from the fields.
After more than two hours, the team collected more than 10 huge bags, plus miscellaneous debris, which were discarded in the Forestville dumpster. This exercise proved to be an effective team-building experience which gave the boys a real sense of accomplishment.
Coaches Mike Costello and Jeff Minsky, Robin Fleming, Karen Misener and Jack Bowles also participated.
The Rockies undertook this exercise to encourage other GFLL baseball and softball teams to do the same throughout the season. They'd also like to encourage Great Falls soccer, lacrosse and field hockey leagues to join in this ongoing clean-up effort.