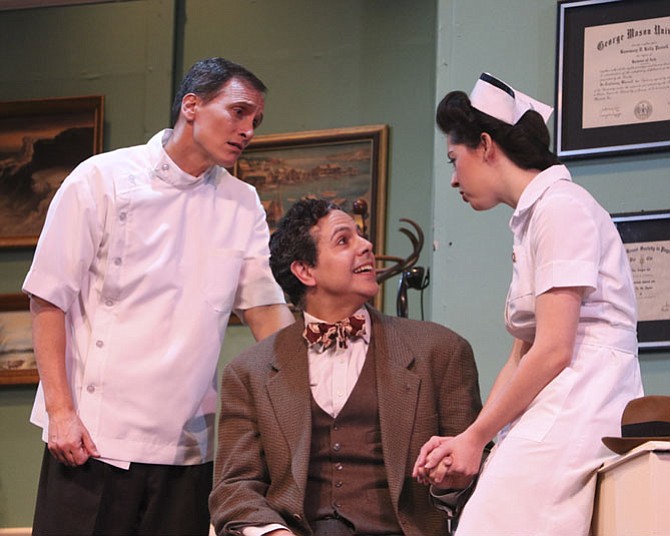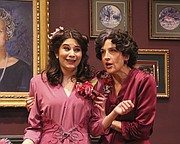 The Little Theatre of Alexandria is presenting "Harvey" now through May 12. Directed by Frank Pasqualino, and produced by Rachel Alberts and Bobbie Herbst, the story centers on "Harvey," an invisible 6-and-a-half-foot tall rabbit. When the main character Elwood starts introducing him to guests at a party, his sister can no longer tolerate his inebriated antics and worries about her family being exposed to this imaginary rabbit. However, after years of living with Elwood (and Harvey), she begins to start seeing him herself. It was made into the iconic 1950 film starring James Stewart.
Director Frank Pasqualino said what drew him to the play was the realization that maybe dreams or illusions are more important than we think they are. "I'm fascinated by the notion that Harvey is a real creature; experienced by at least three characters and the audience. So, is he, or is he not an illusion?" he said.
He said when playwright Mary Chase wrote the play in 1942, it was the height of WWII; a time when the harsh realities of war were being suffered by the whole country. "Everyone in the country was affected by the circumstance of the tumultuous times; much as we are now. Ms. Chase hoped when writing 'Harvey,' that she could bring laughter and respite to war-torn America. Her main character, Elwood, with his unflappable demeanor, his impeccable manners and the happy world he creates around him resonated with audiences in 1944 as they were looking for an escape from the insanity around them. I'm hoping we can get people laughing again; it's needed and it's necessary," he said.
Producer Rachel Alberts said the play represents, for her, the innocence and kindness that the world is lacking at the moment. "I was looking forward to creating something without rough edges. I love the dreaminess of Elwood, who appears to be out of touch with reality, but this is really not the case, he just chooses to construct his own reality. And it's a lovely, gentle, kind reality. Something we all could use these days," she said.
She said what she was trying to accomplish was: "First, that some of these old chestnut plays are exactly what we, as an audience, need at times. And that they still have something to teach us. It's also really funny. Rehearsals were so fun — it was such a joy to be able to immerse ourselves in the silliness of this script," she said.
Andy Izquierdo plays the lead of Elwood P. Dowd, whom other characters refer to as peculiar, out of touch and crazy. "But in many ways, I think he represents what everybody strives to be: genuinely happy," he said. "He is always happy in the moment — whoever he's with — and he approaches every interaction with a sense of curiosity, fellowship and human connection. In truth, he is the most sane and aspirational character in the play — minus all of the time he spends in a bar, perhaps."
He added: "Elwood P. Dowd was so indelibly portrayed by Jimmy Stewart in the 1950 movie that one of the real challenges of the play has been to create a truly unique character. I could never and would never want to imitate that iconic performance — and Frank has been extremely supportive of the cast creating brand new characters in what is a classic play. Infusing this character with all of his quirkiness and misplaced optimism while making him a believable and genuine person has certainly been a challenge — but equally fun."
Tony Gilbert plays the role of Judge Omar Gaffney, a respected attorney in the community and represents the Dowd/Simmons family. "The more he tries to straighten things out, the more Elwood (and Harvey) keep them moving in another path," he said.
He added: "The biggest challenge for me is, as always, creating a believable character onstage that connects with all the thousands of other pieces of our production to give our audience the fullest experience of the script we are portraying to them," he said.
Patricia Smith plays the role of Betty Chumley, the cheerful wife of Dr. Chumley, who always tries to avoid conflict. "That's not easy when you're married to Willie, who is prone to lose his temper. She is also a bit gullible, and a bit of a flirt," she said.
She added: "One of the challenges in playing Betty is making sure that everything she hears is news to her. Her entire encounter with Elwood must be brand new every time. She believes everything he tells her is the truth," she said.
Lindsey Doane plays the role of nurse Ruth Kelly. "When Veta shows up at the sanitarium to commit her brother for treatment, Ruth Kelly, the competent and poised head nurse, assumes the experience will be business as usual," she said. "Little does she know that an invisible white rabbit and his friend Elwood will shake up her routine at the sanitarium and enliven her love-hate relationship with an egotistical young doctor. Despite Miss Kelly's demanding job and long hours, she is remarkably genuine and eager to see the beauty in others."
David Featherston plays the role of the cabbie, E.J. Lofgren, the driver who doesn't make an entrance until the final scene in the play. "It is a very short part but very critical to the play in that my description of how the anticipated treatment for Elwood will actually affect him, changes the attitude and desires of his family," he said.
He said the challenge was to make this blue-collar worker a "likable wise guy" and to deliver his dialogue in just the exact right way so that it conveys exactly the message desired by the author. "Now, of course, every actor's goal is to deliver his dialogue as intended by the author, but in the case of E.J. Lofgren, he has just a few lines to make the point," he said.
Brendan Quinn plays the role of Wilson, the orderly/muscle of the mental hospital. "He wants to do a good job, but his lack of smarts, quick temper and attraction to Myrtle May all get in the way of that goal," he said.
Mary Jo Morgan plays the role of Mrs. Chauvenet, an old, wealthy friend of the family who is prominent in Denver society. "Veta is anxious to impress her because she wants her daughter Myrtle to be accepted by this group and Mrs. Chauvenet is used to being flattered — after all, she's worth it," she said.
She added: "For me the play is about family and the sacrifices that people learn to make for each other — it's easy to feel that family in 1944 and family in 2017 are vastly different, but I think family members — whatever we mean by that — are still making sacrifices big and small for their kin. I don't think there will be a dry eye in the house when Veta makes her sacrifice for Elwood."
Chuck Leonard is playing the role of Dr. Chumley, a psychiatrist at the top of his field who runs his own sanitarium, Chumley's Rest. "The character is self-assured, demanding, and in charge. His routine is thrown off by the visit from Veta Simmons who is trying to commit her brother Elwood P. Dowd," he said.
The Little Theatre of Alexandria is presenting "Harvey" now through May 12. Show times are Wednesdays through Saturdays at 8 p.m.; Sundays at 3 p.m. Tickets are $19 and $22. The venue is located at 600 Wolfe St., Alexandria. Visit www.thelittletheatre.com.