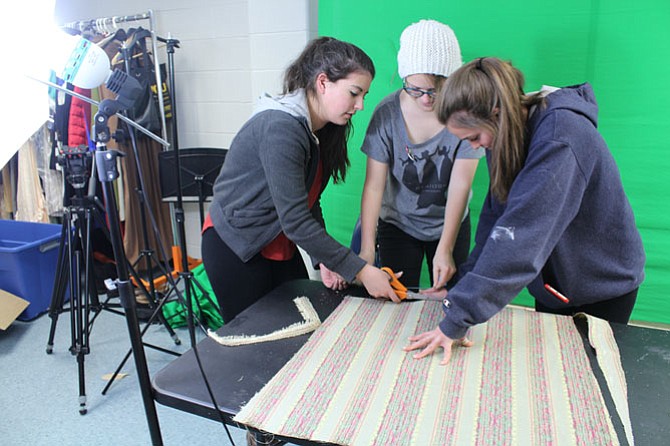 McLean — Students will be performing their first stage play "Harvey" at the newly remodeled Langley High School Performing Arts Center from Thursday, Dec. 1, through Saturday, Dec. 3.
In the comedic show, Elwood P. Dowd insists that he has an invisible six-foot-tall rabbit for a best friend and his family believes he is insane. They want to change him until they realize that he is the normal one, says Langley Theater Director Valerie Karasek.
"I always select a season based on the students I have," says Karasek. "I like to challenge them as artists."
Senior Sivan Tretiak, 17, who is playing the lead, was "born to play the character," she says. Tretiak has been acting since he was a freshman and says this role is the most challenging yet.
"Most of the show, I have to work hard so the audience knows I can see this rabbit," he says.
This is done through pantomiming, which is why his teacher cast him in the roll.
During a theater class his freshman year, "he constructed a pantomime scene with such detail," Karasek recalls. "When he talks to Harvey, we see him," she says.
An invisible character is also a challenge from the perspective of the backstage crew.
"The only technical aspect we have to deal with is how to open doors when Harvey opens and closes doors," junior Leo Mahdessian, 16, says.
As technical director, Mahdessian is also working on a way to create an effect that would cast shadows when the rabbit is present. He hasn't figured it out yet but as for the doors, "it's pretty simple," he says.
The set was designed so the doors open out to the audience. Someone backstage will just need to swing the door open from behind the set and out of view.
"We try to keep it simple," he says.
Though his teacher says the set was one of the toughest aspects of the production, since students had to work in various locations, including parking lots, while the auditorium's renovations were being completed.
"They are passionate about their craft," Karasek says. "We're here rehearsing on Thanksgiving eve—that's dedication."
This will be Tretiak's last play on the Saxon Stage and theater has been one of his favorite extracurricular activities.
"If you're coming into the school as a freshman and don't know anyone, [theater] helps you make friends," he says.
He hopes to start studying math in college next year in his pursuit of becoming a mathematician.
Tickets for Tretiak's last show can be purchased online at www.lhsharvey.brownpapertickets.com for $13.41 or $15 at the door.
The Cast
Jamie Goodson Veta Simmons
Sydney Copp Myrtle Simmons
Sivan Tretiak Elwood Dowd
Claire Goldhush Mrs. Chauvenet
Elenitsa Sgouros Nurse Kelly
Will Baruch Duane Wilson
Mark Bosset Dr. Sanderson
Thomas Miner Dr. Chumley
Yoona Lee Betty Chumley​
Andrew Wantula Judge Gaffney
Athena Landeros Miss. Johnson
Kanishk Singh Cab Driver