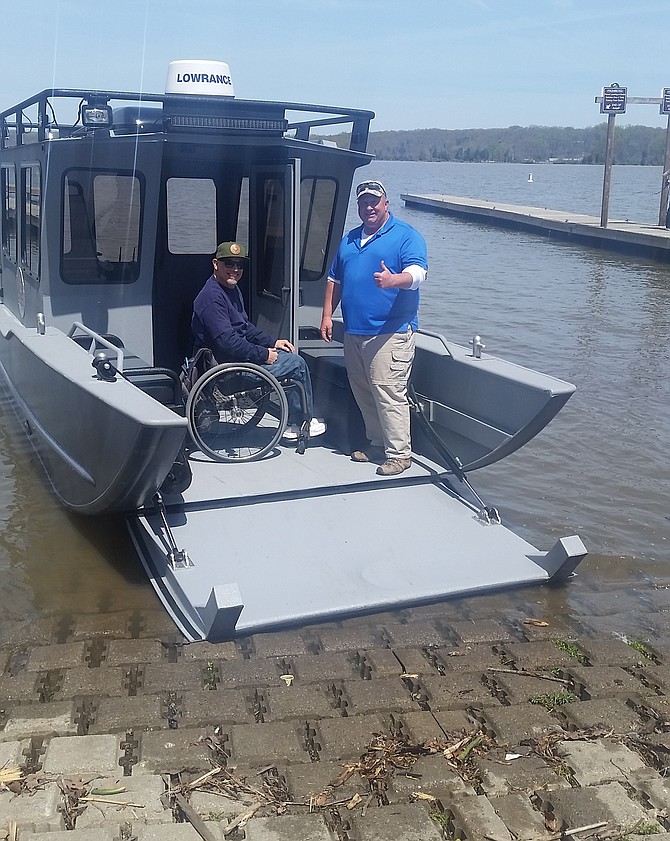 A year ago, Veterans Fishing Adventure (VFA) was just an idea for Ed and Hailey Moore. Today, the father-daughter founding team of this nonprofit organization that provides free boating and fishing trips for veterans and their families are only beginning to see the difference they have made.
"We have touched thousands of people so far," said Moore, an Alexandria resident. "It's hard to fathom what we've done in nine short months. I have seen grown men cry on the boat, even when they're just touching the boat for the first time — especially the Vietnam vets. I see the biggest impact with the guys who served in Vietnam. They stand there and they look at you kind of dumbfounded. I've heard things like, 'When I came back from the war, I got spit in the face.' Or, 'when we came back, no one wanted to be around us.'"
While retired Marine Ed Moore knows firsthand that there is no truly adequate way to pay veterans back for their service and sacrifice, he tries to make it up to these Vietnam veterans — even if just a little. With VFA, Moore extends a token of appreciation to all generations of veterans. He and his family launched the organization last May and have since taken at least 100 military veterans on free boat rides on the Potomac and Chesapeake Rivers.
"We want to get everyone interested on the boat, from the World War II generation to the guys who have served in Iraq and Afghanistan," he said. "I get choked up with these World War II guys. I've learned so much from this incredible generation of human beings, it's incredible. These are people who really deserve to get a break, which is something they really get when they are out on the water. When these guys came back from war in the 1940s, they got off the plane, they got back to their families and went back to the job they had before they shipped out. They never missed a beat. The government took these guys right out of combat flew them home and went right back to work."
A few hours on the VFA boat translates to a care-free afternoon, a time for passengers to escape their problems on the mainland and enjoy Mother Nature.
"The free boat trips we provide help the veterans maintain their camaraderie and feel like they are included in something," Moore said. "Being on the boat is calming and quiet. Enjoying the wildlife and the peace and quiet that you experience on the water is really something special."
In addition to granting such ease from the burdens everyday life, Veterans Fishing Adventure also provides a new degree of rescue for the community: The Port of Virginia invited Moore and some of the organization's volunteer leaders to Search and Rescue (SAR) training.
"Earlier this year, we got selected to go to SAR training in Hampton, Va.," Moore said. "We were the only civilian entity since 1984 to get selected to go. They teach you how to locate bodies and other boats out in the ocean. They teach you how to interact with other ships, and about night navigation. What a neat thing to go to and to learn."
With SAR certification, the Veterans Fishing Adventure team could be saving lives on a whole new level.
"I myself, another Marine, and two other local buddies who all volunteer on our boat went to the training," Moore said. "Now that we are SAR certified, we can do search and rescue missions. The local fire and police in our community can utilize our boat for such missions, too."
Barry Maham, VFA volunteer and captain of the Fairfax County Fire and Rescue Boat Patrol, attended SARS training with the team.
"SARs training gave us a lot of insights to using our boat and other ways we could use the boat to better the community," Maham said. "We got to meet and work with the Coast Guard, and this opportunity was a great way to spread the word of our mission and everything we are trying to do. On top of that, we are able to conduct search and rescue missions now: If I needed his boat today on behalf of the Fairfax County Fire and Rescue Boat patrol, I could take it out right away."
SAR certification is just one of many dimensions to this veteran group's vessel. Moore was using a borrowed boat for many of the organization's cruises, but now their custom-built boat is ready for better-than-ever rides.
"This boat is multi, multi, multidimensional," Moore said. "Our VFA boat is custom-built from the ground up with a hydraulic ramp (the entire front of the boat folds down) which allows easy access for those with mobility issues. The entire boat has a military aesthetic and a panoramic view, whether sitting or standing, from the inside. It's amazing to actually having a tangible item. I never imagined this would be what it is today. We want to let everyone know what we do, because it grows tenfold every day."
Their mother ship is such a work of art that the VFA team has been invited to show it off it in a number of different boat shows across the state.
"I've got people calling me left and right now, asking me to showcase my boat," he said. "It's unbelievable. In February, our boat was on display at the 65th annual Mid-Atlantic Sports and Boat Show in Virginia Beach, which was our first gala type event. We met more than 10,000 people and sold shirts and hats to raise money."
Following this appearance, the VFA crew made its way down to Chesterfield, Va., for the Salute and Celebration of Women Veterans and Women Veteran Entrepreneurs gala.
"We took the boat down, we showed it to everyone," Moore said. "We also met many congressmen down there and overall made a ton of great contacts."
Not only does their boat comply with American Disability Act (ADA) standards so that veterans with a wide range of disabilities can access it easily, but it also has features than most people could imagine. Fitting eight to 10 passengers, the boat features indoor heating and cooling systems, has a Corvette motor and also comes with a propulsion system ideal for fishing.

"It's pretty top notch amazing; I've never seen anything like it," Maham said. "We're definitely displaying it whenever possible, spreading the word. We're in the fundraising phase, but it's not about the money. We all love the water and hope to share that with others. If we can help someone mentally have a break, whether it's boating fishing seeing the Potomac from the water, that's what it's all about."
The story behind the boat is also incredible: More than 100 volunteers joined the Moore family over the course of several weekends to help build the boat. Now complete, Moore said an official christening is on the horizon.
With increased visibility, Veterans Fishing Adventure will now focus on fundraising.
"Now that our boat is built, we will be working more on donations," Moore said. "It's endless what we can do; the word 'no' is not in our vocabulary."
As Moore's team devises a fundraising strategy, he's also on the hunt for a big enough location for their boat's official christening.
"We've taken some veterans on unofficial rides, but we haven't done anything official yet. We're looking for somewhere that would accommodate four to five thousand people."
Moore looks forward to spending his days with this venture for veterans.
"As long as I'm living and breathing, I know this will never get old," he said. "When I'm dead and gone, I'll still be smiling. It's something so infectious, it's unbelievable."