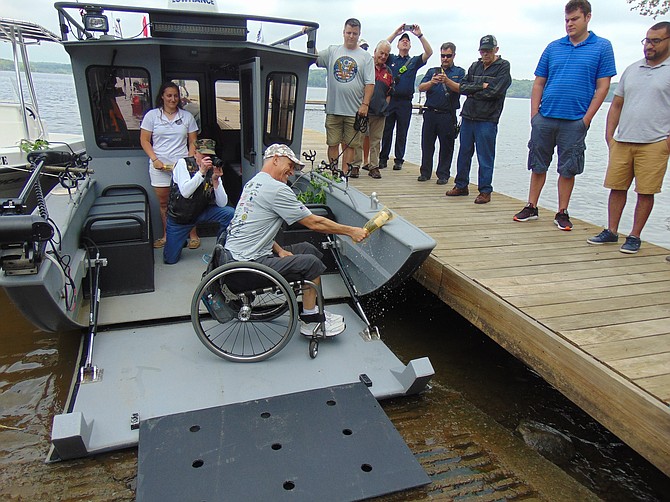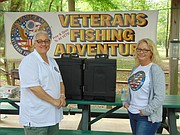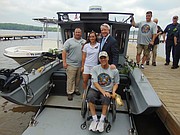 Veterans Fishing Adventures christened two custom-designed-and-built fishing boats at Pohick Regional Park on Saturday, May 4. Approximately 100 supporters, including local and regional firefighters and police attended along with many Marine, Navy, and Army veterans and their families.
Ed and Hailey Moore, founders of Veterans Fishing Adventures, welcomed attendees and christened the new boats with Champagne. Mike Healy, a handicapped veteran, was on hand to help with the christening.
Kirk Lippold, retired commander of the USS Cole, spoke and welcome to the group's supporters. The boats have been inspected and certified for emergency use by the Fairfax County Fire and Police departments.
The two fishing boats will provide hours of handicapped-accessible safe and enjoyable boating, cruising, and fishing experience to all veterans.
More than 500 veterans have already taken trips on the Potomac River courtesy of Veterans Fishing Adventures. One recent experience that demonstrated the value of the fishing program was the catching of a 37-pound catfish by a 6 year old whose father is deployed overseas. A photo of the catch was sent overseas to the father.
The names of the two boats now in use are: 4EVERGR8FUL and KNOT 4 GOT'N'.
The custom designed boat, Knot4Got'n', is 29 ft in length and can accommodate up to five wheelchair participants. It is designed to include a ramp at its stern that lowers to allow wheelchair access from shore.
VeteransFishing Adventure was created by Ed and Hailey Moore to serve those who have served, and to show support by showing veterans that a little accommodation can go a long way to helping them enjoy those things most take for granted.
See veteransfishingadventure.org. This is an all-volunteer organization, recognized as a 501(c)(3) by the IRS.